Fist of the Red Dragon
(1993)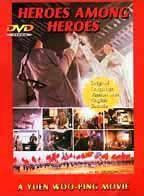 Want to See
Critic Consensus: No consensus yet.
Tickets & Showtimes
News & Interviews for Fist of the Red Dragon
Critic Reviews for Fist of the Red Dragon
All Critics (1) | Fresh (0) | Rotten (1) | DVD (7)

Audience Reviews for Fist of the Red Dragon
Kevin Robbins
½
(Fist of the Red Dragon - this is the worst example of crappy story, good fight scenes. Even in Jackie's simplier films, I do genuinely care about the characters enough to bear with what's happening in between the fights. Also in Jackie's simpler films, there's always humor throw in between to keep the viewer engaged. They tried to do that in Fist of the Red Dragon, but none of it worked. I used the fast forward button often, so it wasn't too painful in between fight scenes. The main attraction here is Donnie Yen vs. Club Foot from Once Upon A Time in China; and they delivered at the finale. Both are super fast and quick kickers. The guy who plays Wong Fei Huang is not bad either. The story is about Wong's attempt to rid China of opium and corrupt generals. It's been done a million times before, but I guess what's interesting is the combination of Wong Fei Huang and Begger Tso in the same film - both are masters of the drunken fist.)

I put up a pic of my super sexy self ;) on Hot or Not, and see what kind of responses I would get. Please don't ask me for the link cuz it's not something I want my friends to see. Maybe when I put up a more respectable pic, I'll let you guys know.

Anyway, it is true that the responses I got so far are all from chicks who are interested in body piercings, pain, nocturnal, fire, tattoos, and vampires, and none of them are asain. But the person featured in that article conveniently left out the fact that there are very few asian girls on Hot or Not. And since my score is so far an 8, like that guy, that means he's just as dorky as I am, and I just can't see the few asian girls on site showing much interest.
Senh Duong
Discussion Forum
Discuss Fist of the Red Dragon on our Movie forum!
News & Features