Le Voyage du Ballon Rouge (The Flight of the Red Balloon)
(2007)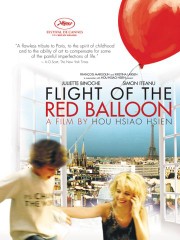 Le Voyage du Ballon Rouge (The Flight of the Red Balloon) Trailers & Photos
Movie Info
Le Voyage du Ballon Rouge (Flight of the Red Balloon), which constitutes celebrated Taiwanese director Hou Hsiao-Hsien's first French-language picture, represents both an homage to Albert Lamorisse's beloved 1956 short The Red Balloon and an expansion of that earlier picture. Hou begins with Lamorisse's central conceit -- that of a mysterious red balloon tracking a lonely young French boy around the city -- and broadens the story to weave an extended meditation on urban isolation and dysfunctional, slightly broken Parisian lives. The red balloon here acts as a kind of observer to a little boy named Simon (Simon Iteanu), who lives with his harried mother, Suzanne (Juliette Binoche) -- a voice actress in a puppet theater -- in a cramped flat in the City of Lights. Simon spends the majority of his time away from Suzanne, accompanied by a Chinese film student, Song (Song Fang), who baby-sits. From time to time, Suzanne recognizes her neglect of young Simon and then overcompensates with sporadic bursts of affection and devotion. She remains far more concerned with the pressures of her daily life -- specifically, the problems wrought by her downstairs tenant (Hippolyte Giardot) and by Simon's ere-estranged father -- than with the emotional state of her young son. Meanwhile, Song finds the parallels between the suddenly emergent red balloon and the plotline of the Lamorisse short rather mesmerizing, and films young Song with the balloon to underscore this point. For the most part, Hou foregoes major story developments and simply uses screen time to witness the interaction of Song, Suzanne, and Simon as they live out existences of quiet despair. ~ Nathan Southern, Rovi
more
Cast
News & Interviews for Le Voyage du Ballon Rouge (The Flight of the Red Balloon)
Critic Reviews for Le Voyage du Ballon Rouge (The Flight of the Red Balloon)
Audience Reviews for Le Voyage du Ballon Rouge (The Flight of the Red Balloon)
Visually strong and stunning and with a naturalistic plot, "The Flight of the Red Balloon" follows the characters and Paris´s day-by-day life. Nothing different or huge happens... that´s life just as it is.
Like in "Three Times" (unfourtanely I´m just beginning to know Hsiao-hsien Hou´s work), we see a poetically filmed slice of common life.

Albert Lamorisse ´s "The Red Balloon" is brought into the movie by the film student baby-sitter Song who films a short film about red balloons. I´m pretty sure that the first scenes where we see Simon talking to the balloon and later, alone in the metro, hiding himself from it are part of Song´s film. In "The Red Balloon" Pascal takes the bus and goes alone to school, but here we clear see that Simon never stays by himself. Also, Simon is a boy of "modern times" who likes video game and stuffs alike. When he is with the other school kids at the Musee d'Orsay (to look at the Félix Vallotton's painting "Le Ballon") and suddenly turns his head up and see the red balloon seems to be the first time he really sees the balloon (and not a "fake" one of Song´s film).

I don´t know if the boy who plays Simon is a real actor, but he talks and acts so naturally that I tend to think he is not. Speaking about acting, Juliette Binoche is simply great. With a not usual character type to her, Binoche plays Suzanne (kinda mix of her previous characters in "Jet Lag" and "Code Unkown") amazingly joyful.


½
[font=Garamond][size=3]I was astonished by how boring [b]Hou Hsiao-Hsien[/b]'s "Flight of the Red Balloon" was. It was, as the French would say, [i]insupportable[/i] (intolerable).[/size][/font]

[font=Garamond][size=3][img]http://upload.wikimedia.org/wikipedia/en/thumb/d/dd/FlightOfTheRedBalloon.jpg/200px-FlightOfTheRedBalloon.jpg[/img][/size][/font]

[font=Garamond][size=3]This is the second film this year from an Asian auteur (supposed auteur) exploring foreign cultures. First we had Wong Kar-Wai's "My Blueberry Nights," which was in English, explored American culture, and had a largely American cast. Now we have Mr. Hou exploring French culture and assembling a cast led by the great French actress, [b]Juliette Binoche.[/b] Both films are insufferably boring and colossally superficial.[/size][/font]

[font=Garamond][size=3]Ang Lee ("The Ice Storm" and "Brokeback Mountain") is the only Asian auteur so far capable of venturing out of Asia and producing non-Asian films with penetrating insight into the foreign cultures they explore and into the humanity that unites us. I applaud Wong Kar-Wai and Hou Hsaio-Hsien for trying to follow in Ang Lee's footsteps. But they have failed miserably. I would say that Hou fails even more than Wong. At least Mr. Wong brought some extraordinary cinematography to the table. Mr. Hou doesn't even bring that.[/size][/font]

[font=Garamond][size=3]There is one positive thing I could say about Hou's film: it has a remarkably accurate sense of the rhythms and texture of daily Parisian life. The problem is that he imagined a Parisian family of the most ordinary sort. Yes, it's true that Hou learned what a Parisian family looks like when it's cooking dinner. Is it interesting to watch an ordinary Parisian family cook dinner? For about 10 minutes it is. After that we need something signiificant to occur to constitute a film. Hou is satisfied just to film the family cooking dinner and cleaning house. It is mind-numbingly boring.[/size][/font]

[font=Garamond][size=3]The film presumably is a homage to the sublime 1950s French short by Albert Lamorisse, which is perhaps the most beloved short in cinema history. But in Hou's film, the balloon almost never appears. It never has any significant role in the plot. The first couple of scenes show the balloon floating around Paris, seeming to follow a young boy played by [b]Simon Iteanu[/b]. But then we hunker down with the boy's Parisian family, which is led by Binoche's character, and we almost never see the balloon again. We just learn about the boy's (insipid) family.[/size][/font]

[font=Garamond][size=3]Binoche plays a divorced mother raising her son alone. The boy's father is living in Montreal. A new nanny has just been hired. She is a Chinese film student who improbably speaks fluent French. This character is an obvious doppelganger for Hou himself. She even films the boy and grows somewhat fascinated by the idea of a red balloon. She even mentions the 1950s short to which the film is presumably paying homage. [/size][/font]

[font=Garamond][size=3]I liked this self-referentiality, and much could have been done with it. Instead all Hou does is have this languid, dull Chinese woman walk around with a videocamera. She never says anything interesting about cinema. We don't get the slightest sense of what her life is like or what she really cares about. No one in this film seems really to care about anything, and their emptiness is not interesting to watch. It says nothing compelling about empty people.[/size][/font]

[font=Garamond][size=3]Binoche's character is to some degree entertaining. She is a bleached blonde who creates children's puppet shows and does have charisma. But all she ever talks about is trying to get a (boring) tenant to move out of the apartment downtairs.[/size][/font]

[font=Garamond][size=3]The script gives Binoche's character only mundane tasks to accomplish. I would have loved for a more interesting screenwriter to get his or her hands on this character and create something. [/size][/font][font=Garamond][size=3]Superficiality is the name of the game here, and this film gives new meaning to the word soporific.[/size][/font]
William Dunmyer
Super Reviewer
Le Voyage du Ballon Rouge (The Flight of the Red Balloon) Quotes
Discussion Forum
Discuss Le Voyage du Ballon Rouge (The Flight of the Red Balloon) on our Movie forum!
News & Features