The Fly II
(1989)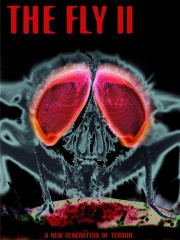 Tickets & Showtimes
The Fly II Trailers & Photos
Movie Info
Chris Walas, the makeup and animatronics director on David Cronenberg's remake of The Fly, takes a stab at directorial duties in this sequel. Before Seth Brundle morphed into scrap metal in the original The Fly, he managed to leave behind the seed of his legacy, and at the start of The Fly 2 his son, Martin (Eric Stoltz), has suffered an accelerated growth, thanks to his fly genes. Although played by Stoltz, Martin is supposed to be only five human years old, and unaware of his imminent transformation into a fly. All his life, Martin has been confined to a laboratory at Bartok Industries, where evil CEO Bartok (Lee Richardson) plans to breed a new race of super flies. Martin spends his days working in the lab experimenting with teleportation. But then Martin meets Beth (Daphne Zuniga), an attractive researcher. Martin is attracted to her, but not only do his hormones kick in, so do his fly genes. Soon, Martin begins to transform into a bug just like his father. Desperate to stop his transformation, he wreaks revenge upon Bartok while trying the find a mate with which to swap his unwanted fly genes before it's too late.
more
Twentieth Century Fox Home Entertainment
Cast
News & Interviews for The Fly II
Critic Reviews for The Fly II
Audience Reviews for The Fly II
Taking up immediately where Cronenberg's succinct homage to Frankenstein leaves off, sort of a Son of Frankenstein, the child of the monster seeks to break the curse. The cast is sorta up to the challenge but w/o the intelligence and love inherent in the first, w/o a script, and with a less experienced director, well, there isn't much of a chance.
Quite the pleasant surprise for me to discover that 'The Fly II' isn't a disgrace from the rarefied heights of Cronenberg's masterpiece. 'The Fly II' elects a different route with a furiously mean-spirited monster-on-the-loose saga that ramifies from the original while wrenching pathos for the socially maladjusted Martin who casually asks "Do you have organic matter?" to the late-night staff of the scientific facility. In an unexpectedly touching scene, Martin euthanizes a canine that is mangled from the telepod experimentation. Darabont and company inject a lot of wily symbolism with a bug zapper and the flapping sound effects of a helicopter at the opening. When Martin metamorphoses into the fly, it's an insanely fun, grotesque creature-feature with mounds of gelatinous makeup (an acid-dissolving face) and poetic justice for the lead villain. Of course, 'The Fly II' is not the equal of Cronenberg's mesmerizing remake, but it is contagiously enjoyable, heart-breaking and unapologetic in its bloodletting.
The Fly II Quotes
Discussion Forum
Discuss The Fly II on our Movie forum!
News & Features