Friday the 13th Part VII - The New Blood
(1988)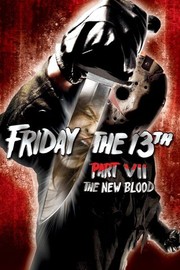 Friday the 13th Part VII - The New Blood Trailers & Photos
Movie Info
Directed by makeup effects artist John Carl Buechler, the seventh in the long-running, grisly horror series was far from the last, although the climactic fate of its antagonist would seem to suggest a final send-off. Lar Park Lincoln stars as Tina Shepard, a teenager with uncontrolled telekinetic powers. As a girl vacationing at Camp Crystal Lake, Tina killed her abusive father with the use of her mental abilities. Years later, seeking intensive counseling from manipulative, greedy psychologist Dr. Crews (Terry Kiser), Tina agrees to participate in a radical therapy that takes her back to Camp Crystal Lake. Unfortunately, Tina's psychic skills rouse the slumbering Jason Voorhees (Kane Hodder) from his watery grave and, in typically bloody fashion, the vengeful spook begins dispatching the randy teenagers partying in a house nearby. As Tina attempts to stop Jason's slaughter with the use of her powers, the mass-murdering ghoul encounters his toughest opponent yet. Friday the 13th, Part VII: The New Blood was often referred to by series fans as "Jason vs. Carrie," an apropos reference to Tina's strong similarity to the main character in the horror classic Carrie (1976). ~ Karl Williams, Rovi
more
Cast
News & Interviews for Friday the 13th Part VII - The New Blood
Critic Reviews for Friday the 13th Part VII - The New Blood
Audience Reviews for Friday the 13th Part VII - The New Blood
Jason VS. Carrie - that would make a good alternate title for this entry. This time around in Friday the 13th Part 7: The New Blood, Jason has to contend not only with his usual victims, but a young woman with psychokinetic powers. Originally this film was written to be the long-awaited Jason VS. Freddy film, but when New Line Cinema and Paramount couldn't reach an agreement about the character rights, it was re-written to accomodate the VS storyline with a different character. Noted to death by the MPAA, Part 7 is really sparse as far as blood and gore go (probably the least amount of the entire series). The heroine of the film is also, character-wise, unwatchable. She is a constant cry baby throughout the entire film because her father was killed when she was very young. Most of the time she just comes off as annoying, and the story suffers for it. As for the other aspects of the film, they're all pretty much mediocre. Nothing new and nothing spectacular, especially as heavily-edited as the film is (which really destroyed its chances anyway). It has some fun moments, but overall, it's nowhere near as impressive as the previous entry. Fans tend to rally around the film because it marked the first appearance of Kane Hodder as Jason. Although he does give Jason a lot more strength and menace than any of the other actors who played him before, the overall quality of the film itself leaves much to be desired. It's definitely not a highlight of the series for me, and it's also the beginning of what I consider to be eventual downfall of the quality of the series.
Tim Salmons
Super Reviewer
½
oh ok. yea this might have a local crazy in it, but i think hes a just an old guy working the graveyard who probably saw the Grateful Dead back when they were called the Warlocks, and he discovers Jason's empty grave, and then BAM!, grave aint empty no more. then the opening credits roll and shit gets a whole lot worse.
Friday the 13th Part VII - The New Blood Quotes
Tina: Your're not listening to me you havent heard a single word that I've said.
Dr. Crews: You're lying because it happens when your emotions are at their peak.
Russel: When did you first know you loved me?
Sandra: I think it was the first time I saw the enormous size of your great big, wallet.
David: Colombian express is pulling out, all aboard.
Discussion Forum
Discuss Friday the 13th Part VII - The New Blood on our Movie forum!
News & Features