Frog-g-g!
(2004)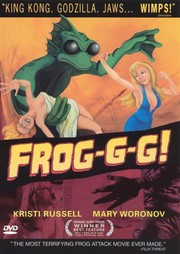 AUDIENCE SCORE
Critic Consensus: No consensus yet.
Movie Info
Cody Jarrett's grade-Z horror comedy film Frog-g-g! concerns a mutant frog that emerges from the water and wants to reproduce with the only species that matches it genetically: human women. Kristi Russell plays Dr. Barbara Michaels, an EPA agent who realizes what is happening before anyone else. Unfortunately, she has a difficult time convincing anyone of her theory until it is too late and the mutant begins attacking.
more
Cast
News & Interviews for Frog-g-g!
Critic Reviews for Frog-g-g!
All Critics (1) | Fresh (0) | Rotten (1)
If Frog-g-g! is a satire, then where are the jokes? And no, incessantly ridiculous dialogue doesn't not count as a "joke."

Audience Reviews for Frog-g-g!
The Vulture
½
FROG-G-G! Wasn't the movie of my dreams. The cover looked so funny that I forgot Rule Number 1--The better the cover, the worse the movie. It tried very hard to be a send up of 1950's style monster flix, but that fell apart after the first 5 minutes when we got the nudity and the (rather tame) girl on girl stuff. Another flick with an identity crisis, great. There's really not much to say about this one except that I tend to cut low budget movies a lot of slack when it comes to everything, but the (over) acting her was a bit much even for me. The only aspect of the flick that I did enjoy was the monster himself when he finally did show up. He was never meant to be taken seriously by any means and his suit had everything except a zipper--or maybe it did and I just wasn't paying attention. But I have to admit that I got a kick out of the horny amphibian when he appeared on the football field in the middle of the big game and ran towards the girls in the stands, flinging full backs hither and thither as he waddled or hopped or did whatever it was that was he was doing. Best part of the movie, the part where I actually laughed? The end credits when FROG-G-G! just stands there and dances in front of the camera.
karen shaub
Discussion Forum
Discuss Frog-g-g! on our Movie forum!
News & Features