Gabbar Singh
(2012)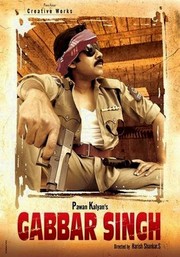 AUDIENCE SCORE
Critic Consensus: No consensus yet.
Movie Info
Gabbar Singh is remake version of Hindi movie Dabangg. It is a action drama based movie, where Pawan Kalyan playing the title role and Shruti Haasan playing the female lead role. Harish Shankar, who earlier directed Mirapakaya movie with Ravi Teja is now directing this movie under Bandla Ganesh's Parameshwara Art productions banner. Devi Sri Prasad scored music for this movie.
more
Cast
News & Interviews for Gabbar Singh
Critic Reviews for Gabbar Singh
There are no critic reviews yet for Gabbar Singh. Keep checking Rotten Tomatoes for updates!
Audience Reviews for Gabbar Singh
Jack Lakkapragada
Gabbar Singh - He is super special
Veedi thikka ki bheebatsamina lekkundhi

--> Introduction

Every once in a while, a movie turns up in Tollywood changing the fate of the protagonist, his religiously devout fans, regular film-goers and everybody involved in the movie business all the way from money man through to the bicycle stand owner at a local theater. But when this happens wit
h a human tsunami at the helm of it, it's difficult to gauge the craze and madness coming along.

For more than a decade Mr. Pawan Kalyan has been a doctor of mediocrity, barring a few glimpses of glory (Jalsa and Gudumba Shankar to an extent), given his hitherto unfathomable super successes both at box office and with the audience. But has this made an iota of difference in his stellar fan following? Not even a bit - bang comes out an answer from every die-hard fanatic of the super star (including me). But the true lady luck of success, glory, redemption and comeback has been quite an elusive monster. Not anymore - especially after illustrious "Gabbar Singh" it feels like success has been Pawan's care of address all the while.

--> Background and Plot

Gabbar Singh, as everybody knows, is a remake of Bollywood's super-duper masala pot boiler "Dabaang". Any Pawan fan watching that film had an intrinsic thought followed by a massive goosebump "If my hero does this film ______________". Some crazy people like me even prayed for it and guess what - prayers do come true. Gabbar Singh became a reality and is much more potent than Dabaang given the unprecedented command Pawan has on all crafts of movie making. Going in to the plot:

Venkataratnam Naidu aka Gabbar Singh (Pawan Kalyan) is a Sholay maniac and flees from his house just to be away from step dad (Nagineedu) & brother's(Ajay) company. But his extreme affection towards his mom (Suhasini Maniratnam) makes him come back as a Circle Inspector to his own village (Kondaveedu). Given his unflinching attitude towards law, order, morality and virtue he pulls on a rough plug with local political leader (Abhimanyu Singh). At the same time he falls in love with a fancy shop belly (Shruthi Hasan) packaged with an inebriated father (Kota Srinivasa Rao). All characters being set, rest of the story is all about how the protagonist faces off with both the evil and lovable forces eventually coming out at the top. Extremely regular doses of love, action, hilarious comedy and sentiment are well laced throughout the film making it a superb roller coaster ride for every average moviegoer irrespective of class/section.

--> Analysis

Talk about rigorous words like power, energy, charisma, dominance yada yada and there is just one name you can come up with - Pawan Kalyan. Right from the introduction fight to end credits all he does is entertain you out of your seats with uncontrollable but defined energy levels. Be his simple but stylish dance movements, extremely careless plus rugged dialog delivery, panache at comedy, apt sentiment levels, regular portions of love and powerful fights - Pawan was simply at his best.

Gabbar Singh proves yet again that - power can be low lying once in a while (or for a while) but when it starts rising nothing can come in it's way. He is truly a human tsunami and his titillating dance movements in "Mandhu Babulam" will be cherished forever by all his die-hard fans. Personally, I had tears rolling in my eyes (this time out of sheer amazement and bedazzle) personifying what Pawan means to every follower of his.

Shruthi Hassan and Abhimanyu Singh were passable and don't add any zing to the film. Suhasini Maniratnam, Tanikella Bharani (anti-hero's advisor), Kota Srinivasa Rao, Ali (Constable Samba and the usual fiddle to Pawan) and Rao Ramesh (local MLA) do more than fair justice to their roles.

Music director Devisri Prasad has been a blessing in disguise for all music lovers. All songs have been instant chartbusters right from the time audio came out. On screen they looked more beautiful and serene given Jayanan Vincent's exquisite cinematography and visuals.

Last but not the least - I'll thank the director, Harish Shankar, everyday of my life for presenting Pawan in a way every fan would long for. Dialogs penned by him were exclusively written just for Pawan giving the necessary zing umpteen number of times throughout the film.

Cannot resist quoting a few lines before I sign off:

"Naakkoncham thikkundhi - kaani dhaanikolekkundhi"
"Peru gothram cheppadaaniki nenu gudikochchanentraa"
"Final gaa ye ammai ayinaa magaadiki padaali padudhdhi - adhi srusthi dharmam raa"
"Nenu trend ni follow avvanu - trend set chesthaa"
"Naaku yeppudu evvadu poti raadu raaledu, endhukantey Sidhdhappa naaku nene poti naatho naake poti"
"Charitralni cheththabuttalni nenu pattinchukonu"
"Nenu aakasam lantodni"

I am humming away home with "Gabbar Singh - Gabbar Singh - He's on the way to do something"

Pawan fanatic, disciple and devotee - always and always!

Visit me at https://www.facebook.com/jackedupmovies for more reviews and fun.
Jack Lakkapragada
Gabbar Singh ,an excellent remake of Dabangg.They changed the 80% od the movie .Awesome coming back for Pawan Kalyan .it's perfect treat for fans and masala movie fans .
Abhilash Chacko
Discussion Forum
Discuss Gabbar Singh on our Movie forum!
News & Features