Gertrud
(1964)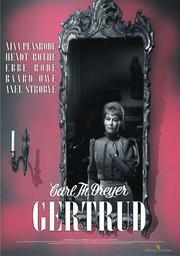 Movie Info
Nine years after the release of his acknowledged masterpiece, Ordet, Danish director Carl Theodor Dreyer offered this a story of an individual in search of a measure of personal peace and serenity, which proved to be his last completed film. Gertrud Kanning, like the maid Joan in Dreyer's best-known film, La Passion de Jeanne d'Arc, is a woman in isolation. On the eve of her husband's appointment to a cabinet minister post, she announces that she is leaving their loveless marriage. But her younger lover Erland Jansson, a concert pianist, is more interested in keeping their affair illicit than in continuing it in the open. Gertrud's old lover, the poet Gabriel Lidman, offers more than his friendship, but she holds back from turning to him, instead choosing to live out her life in solitude rather than compromise with love again. Adapted from a 1920s play by Hjalmar Soberberg, Gertrud plays out in long takes, with few close-ups and exterior scenes. Though initial critical reaction to the film was largely unfavorable, its reputation has steadily grown, especially considered in the context of Dreyer's long career. ~ Tom Wiener, Rovi
more
Cast
News & Interviews for Gertrud
Critic Reviews for Gertrud
Audience Reviews for Gertrud
In "Gertrud," Gustav(Bendt Rothe) is excited at the prospect of being named cabinet minister. His wife Gertrud(Nina Pens Rode) is alright with this because she sees this as confirmation that he does not love her anymore. In fact, she has already taken a younger lover, Erland(Baard Owe), in plotting an escape plan from her marriage.

"Gertrud" is an immaculately crafted but stagy and talky melodrama. So much so, that the characters cannot but help express their feelings at every turn, overstating the central conflict between men's ambition and women's love.(What Gertrud should be so concerned with is why she is so continually attracted to alpha males.) Even at the time the movie is set at the turn of the 20th century, this is simply a stereotypical view of gender relations. In fact, there have always been ambitious women but in the past those ambitions were limited by the men around them.
Two hours of people talking, not looking at each other, but talking about their emotions without actually expressing them. There are moment's of brilliance, but mostly still shots of wooden actors staring off into the distance. Dreyer is a great director, he just seems absent on this one.
Discussion Forum
Discuss Gertrud on our Movie forum!
News & Features