G.I. Jane
(1997)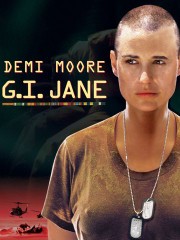 Tickets & Showtimes
G.I. Jane Trailers & Photos
Movie Info
This surprisingly entertaining action film chronicles the adventures of a woman going through the rigorous training that would make her the first female Navy SEAL. Facing sexual discrimination from her peers and her commanding officers, Jane battles through boot camp to prove that she has what it takes.
more
Cast
News & Interviews for G.I. Jane
Critic Reviews for G.I. Jane
Audience Reviews for G.I. Jane
Ridley Scott does a pretty good job at combining a women's lib tale about a woman breaking into the uber-male ranks of Navy Seals with a little soft porn (can you do that??? He did it already) as Demi Moore"s nipples star as a important supporting cast members, and are given lotsa screen time. Viggo Mortensen and Anne Bancroft also do well bringing this orchestrated serio-carnival to a nigh opus crescendo, but its still only a circus. Weeeee!
G.I Jane is an pretty interesting film to watch. Directed by Ridley Scott, G.I Jane tells the fictional story of the recruitment and training of the first woman Navy Seals. I don't understand why this film has gotten so many bad reviews. Granted it's not the best Ridley Scott film, but it's as hell ain't his worst. People seem to hate this film because it's a different type of film for Scott. Obviously the big thing surrounding the film is the fact that Demi Moore had to shave her head for the part. Though not a perfect film, this is still a pretty good one. Viggo Mortensen is obviously the best actor here. G.I. Jane is a very interesting look at the Navy Seals, though flawed due to Hollywood dramatization. The film does give you an idea of the hard as hell training of the elite Navy Seals. G.I. Jane is a very entertaining film with political overtones due to the fact that the story revolves around a senator trying to further her career by having Demi Moore fail the Seals selection course. Not perfect in any way, G.I Jane however is very entertaining and has some cool scenes of boot camp training. Obviously cliched, the Seals are portrayed as dumb Jarjheads, which is an aspect of the film that doesn't work, because most people in the military are very intelligent and are University graduates. Unfortunately with yet another film like this, the soldiers are seen as dumb sexists, which for the most part isn't true in the military. That would be my only beef with the film. Other than that, G.I Jane is a good film, though not excellent by any means, and definitely isn't Ridley Scott's best. However it's far from his worst. Expect from G.I. Jane an innacurrate but entertaining look at the Seals program, and you may not be disappointed. And as far as I'm concerned, after her dreadful film, Striptease, this is a far better film for Demi Moore, and actually this is her only good performance.
G.I. Jane Quotes
Master Chief John Urgayle: A bird will fall frozen, dead from a bough, before...ever...feeling...sorry for itself.
C.O. Salem: Did you just have a brain fart?
Discussion Forum
Discuss G.I. Jane on our Movie forum!
News & Features