Giants & Toys (Kyojin to gangu)
(1958)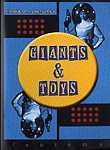 AUDIENCE SCORE
Critic Consensus: No consensus yet.
Movie Info
Yasuzo Masumura's dark satire of postwar Japan's cutthroat business culture stars Hiroshi Kawaguchi as Nishi, a young executive for a candy company locked in fierce competition with two rival companies. By chance he and another executive in his company meet a loudmouthed female taxi driver with bad teeth, Kyoko (Hitomi Nozoe), who they transform, through a clever marketing campaign, into an unlikely sex symbol to launch their new line of caramels. Nishi also tries to extract information about his competitors' marketing plans through an old college friend at one company and a girlfriend at another. Along the way he finds himself falling for Kyoko, but finds that the worlds of business and love are painfully incompatible. ~ Tom Vick, Rovi
more
Cast
News & Interviews for Giants & Toys (Kyojin to gangu)
Critic Reviews for Giants & Toys (Kyojin to gangu)
There are no critic reviews yet for Giants & Toys (Kyojin to gangu). Keep checking Rotten Tomatoes for updates!
Audience Reviews for Giants & Toys (Kyojin to gangu)
Stella Dallas
Super Reviewer
"If you want to be a star, take three lovers. A producer, a writer and a critic."

Cynicism about the corporate advertising world is always topical, so this twisted Japanese satire is still relevant. Apollo, Giant and World are three companies battling for the all-important caramel market. Their publicity departments are hatching frantic promotions to generate sales, including giveaways of live animals, space suits (the "space race" motif is one dated element) and financial support for life. But World strikes gold when an ad exec stumbles upon Kyoko, an unconventionally attractive girl who has gnarled teeth but a certain frisky charisma. She becomes an overnight sensation, appealing to a population who can't relate to flawless celebrities. Meanwhile, the frustrated superstar becomes smitten with a lower World employee assigned to watch her, but he already has a girlfriend working at rival Apollo. He also has an old chum at Giant, and everyone wants to sneak inside information from everyone else.

"Giants & Toys" makes a nice companion piece for "A Face in the Crowd," which came out just a year earlier. It's quite accessible and has a feisty, percussion-heavy score that's bound to tickle exotica fans. Director Yasuzo Masumura ("Blind Beast," "Red Angel") has a knack for dark humor, though his odd decision to show time-lapse montages over a clicking cigarette lighter doesn't really work here.
Masumura's story of a publicity war between three rival candy companies is a blistering look at how the corporatization and commercialization of Japan dehumanizes everything it touches. It's an energetic and witty film, and although the subject matter seems a bit overdone today, it was pretty fresh in 1958. The only problem is that its satirical edge starts to wear away by the end as it gets closer to straight drama. Nonetheless, it's an engaging critique of consumerism and celebrity.
Discussion Forum
Discuss Giants & Toys (Kyojin to gangu) on our Movie forum!
News & Features