Gigante
(2009)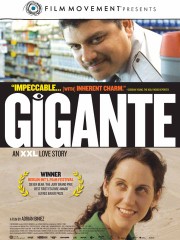 Tickets & Showtimes
Gigante Trailers & Photos
Movie Info
A supermarket security guard forms a powerful fixation on the pretty cleaning woman who scrubs the aisles during the graveyard shift in this deeply personal tale of obsession and voyeurism from first-time feature filmmaker Adrian Biniez. When the sun goes down, Jara (Horacio Camandule) clocks in to monitor the security cameras at a suburban Montevideo supermarket. The job can be pretty dull at times, so in order to keep himself occupied, Jara often passes the time watching videos, doing crossword puzzles, and playing music. One night, as Jara glances at the monitors, pretty cleaning woman Julia (Leonor Svarcas) wanders into frame and the portly security guard is immediately transfixed. With each passing day, Jara's fixation on Julia grows stronger, to the point where he eventually begins following her outside of work, as well. Before long, Jara's entire life is centered on Julia's daily routine; he watches as she lounges on the beach, goes to a movie, and even as she meets with another man. When rumors of layoffs begin circulating around the supermarket and Jara discovers that Julia is one of the workers about to be handed her walking papers, the smitten security guard must choose between letting go of his obsession and laying bare his suppressed feelings for the object of his affections, or remaining silent and letting his one chance at happiness slip away.
more
Watch it now
Cast
News & Interviews for Gigante
Critic Reviews for Gigante
Audience Reviews for Gigante
A quiet, slow-paced tale of a gentle giant who becomes obsessed with a girl at work. Jara (Horacio Camadule) is a night shift security guard for a giant supermarket who begins stalking one of the cleaning ladies, Julia (Leonor Svarcas). She may not be â??hotâ?? but she is pleasant to look at and obviously the best thing heâ??s seen in a while, and she does have a wonderful smile. There is little dialog, and Jaraâ??s inability to take the initiative can grate on oneâ??s nerves. As someone said, the viewer almost wants to reach through the screen and slap the guy. â??So TALK to her already!â?? But really, the film doesnâ??t pull any punches. It is what it is and you will either find yourself invested and waiting (and waiting) to see how it plays out, or you will tire and move on to other things. This viewer is happy he made the investment and was rewarded with a sweet, plausible outcome. Not recommended for Bruce Willis/Arnold Schwarzenegger/Sylvester Stallone fans. If you like it low-key, however, this is your film.
½
At the beginning, you think the dude's a creep, but as the movie goes a long, you really start to root for that mofo.
Steven (Mogi) .
Discussion Forum
Discuss Gigante on our Movie forum!
News & Features