Girl From Rio
(2001)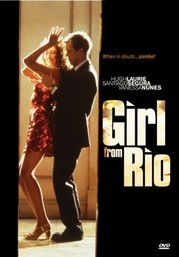 AUDIENCE SCORE
Critic Consensus: No consensus yet.
Girl From Rio Trailers & Photos
Movie Info
A mild-mannered banker finds himself living out his wildest dreams, only to wake up to a major dilemma in a continent-hopping comedy. Raymond (Hugh Laurie) is a British bank clerk who doesn't much care for his job, and whose marriage to Cathy (Lia Williams) has hit a rut. It would appear Cathy feels the same way about their relationship, since she's been fooling around on the side with Raymond's boss, Strothers (Patrick Barlow). Raymond's one escape from his dreary life comes from his part-time job as a dance instructor, and he often fantasizes about Orlinda (Vanessa Nunes), a beautiful and famous dancer from Brazil. One day, Raymond discovers that Cathy has finally left him to run away with Strothers, and Raymond snaps; he embezzles a fortune from the bank, and hops on the first plane for Rio, where with the help of taxi driver Paulo (Santiago Segura), he finds the lovely Orlinda, and to his amazement ends up spending the night with her. The next morning finds Raymond in a more stable frame of mind, and he decides he should return the money to the bank, but when he discovers Orlinda is gone, he realizes she took the embezzled funds with her, and now he has to find her and recover the money before it's too late. Santiago Segura is a major comedy star in Latin America, but he was cast somewhat against type in this film, since he's not Brazilian, but a Spaniard. ~ Mark Deming, Rovi
more
Cast
News & Interviews for Girl From Rio
Critic Reviews for Girl From Rio
Audience Reviews for Girl From Rio
James Higgins
Girl from Rio (2001)
Cast & Crew:
Hugh Laurie, Santiago Segura, Vanessa Nunes
MPAA Rating: Not Rated
Runtime: 90 minutes


This isn?t a movie many people would see unless they are obsessed with Hugh Laurie and I admit he is the reason I rented it in the first place. Thankfully Hugh is an amazing actor with a capacity for making an audience love him no matter what. I never thought I?d say this, but I wanted him to come out on top even though he?s a bank robber. I was cheering him on as he left the bank with all that money.

Hugh also had the ability to make me feel so embarrassed for him that I had to shut off the DVD and come back to it in a few minutes. I wanted so badly for things to go well for Raymond that I was emotionally tethered to him. Hugh definitely was the standout star of this movie.

The rest of the cast was forgettable. They came in and did their job and I promptly forgot them. I would have liked to have a better supporting cast to Hugh?s wonderful performance, but as the philosopher Jagger once said, ?You can?t always get what you want.?

All in all the plot was very predictable and the characters were extremely stereotypical, but I would like someone to find me a romantic comedy that doesn?t fit that description. It was a lot of fun to watch and if you view movies as an escape from reality ?The Girl From Rio? is a very good choice.
Theresa D'Entremont
½
What an absolute disappointment. Not even telling myself "This is gonna suck" a million times prepared me for how much this film sucked. I am just glad I got to see Hugh Laurie dancing the samba. I guess that is the only reason to watch this film.
Christine S
Discussion Forum
Discuss Girl From Rio on our Movie forum!
News & Features