Giving It Up
(1999)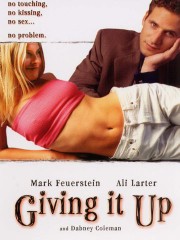 AUDIENCE SCORE
Critic Consensus: No consensus yet.
Giving It Up Trailers & Photos
Movie Info
Rising advertising executive Ralph (Mark Feuerstein) is irresistible to women and he to them - he can even bed Lesbians. But when he falls for a new co-worker (Amy Redford) Ralph decides to change his ways by becoming celibate, and finds it harder than he thought to stay out of strange beds, including Amber's (Ali Larter), a super model and Ralph's lifelong fantasy woman.
more
Cast
News & Interviews for Giving It Up
Critic Reviews for Giving It Up
All Critics (1) | Fresh (0) | Rotten (1)
...a smug, oppressively talky romcom that fails to hold the viewer's interest virtually from minute one...
Audience Reviews for Giving It Up
Well, I went to Ozzfest. And now my cousin wants to go to the one in North Carolina on September 2nd. So we are probably going to go. We are actually going to try and get seats this time. So we can be closer to the bands on the Main Stage. I took some pictures, I will send them soon. Anyway, that will have to be talked about over the phone, not on here. Well, time to rate my fresh films. Ready or not, here I go.


[color=orange][b][u]PROZAC NATION-[/u][/b] Alright, I believe that this is a movie that many people can relate to. It shows you that you are not alone if you have suffered from depression. Which I have. It explains things very well. About how noone knows how you feel, which is true, unless, you have actually experienced it first hand. I also believe that people think AND feel differently when they are depressed. I don't think that came out right, I meant that it is different for each person. It is not the same for everyone. Anyway, I came in after part of the film, so I didn't see it all. But I do know that it was a very good film, that is why it gets an 8 from me. It had superb action by Christina Ricci. I thought it was amazing actually. She did so well. Now, moving on.[/color]
[color=#ffa500][/color]
[color=#ffa500][b][/b][/color]
[color=lime][b][u]KILLING ME SOFTLY-[/u][/b] This one stays fresh with a 6. Not any more deserving than that really. However it was a really good film. Probably mostly because I got to see Heather Graham naked. That always helps. It is a brain teaser though. The film really has you thinking throughout the whole thing.[/color]
[color=#00ff00][/color]
[color=#00ff00][/color]
[color=seagreen][b][u]GIVING IT UP-[/u][/b] Alright, this one is basically the film that 40 days and 40 nights was based off of. Meaning that "Giving it up" was done first, of course. I decided to keep it fresh with a 6. It really isn't all that great though. If you are just looking for something to watch, and you have this movie, and have never seen it before, but have seen all the other ones in your house, then sure, watch it. But if that doesn't happen, don't worry about renting it. [/color]
[color=#2e8b57][/color]
[color=#2e8b57][/color]
[color=mediumturquoise][b][u]HIDE AND SEEK-[/u][/b] A spectacular performance by the little girl, I always forget her name, Dakota or something I think. Anyway, spectacular. She is awesome. I never figured out who "Charly" was until the end of the movie. Usually those kind of movies, I always figure out who the so called "killer" is way beforehand. Not in this one. Which makes it that much better for me. A very interesting film, that i recommend to anyone.[/color]
[color=#48d1cc][/color]
[color=#48d1cc][/color]
[color=blue][b][u]THE FORSAKEN-[/u][/b] Alright, I just decided to keep this one fresh for the heck of it. It wasn't all that bad though. But not more deserving than a 6. It is a vampire movie. I hadn't seen one of those in a long time. So we decided to get one. Anyway, I don't really remember any details from it right now, so that's all I got.[/color]
[color=#0000ff][/color]
[color=#0000ff][/color]
[color=white]I hope you've enjoyed my ratings today, stay tuned for scenes from the nest "Fresh Film Update"[/color]
[color=#ffffff][/color]
[color=#ffffff]Dacaso, Out!!![/color]
Casey Southall
by Dane Youssef


"THE BASTARD LOVECHILD OF 'SEX AND THE CITY' & 'WHAT WOMEN WANT.' A QUIRKY, RE-INVENTIVE ROMP."


Kublan's "Giving it Up" is a movie which is scarce in the indie field. A romantic comedy, rumored to be the worst, sloppiest, unentertaining and most formulaic of the entire genre.


But very surprisingly, "Giving it Up" is a smarter, more-thinking person's romantic comedy. A movie that seems to have filtered out the obnoxious slapstick, trite plot points, dumb characters, monotone dialouge and Julia Roberts and Meg Ryan's routines.


Oh, there are quite a few clichés' in this movie, all right. The playboy who's tired of the game and wants to settle down and develop as a person, the bookish love interest who has no patience for his antics, the sexist supporting characters, the geeky best friend, the unobtainable finally obtained... only to realize that...


And although it sounds like the storyline from "What Women Want" (which also featured Feuerstein), no two movies could possibly be more polar opposite.


But "Giving it Up" is more than that. It doesn't rely entirely on that as so many other rom-coms do.


"GIU" is a well-played, thoughtfully-written, smartly conceived look at men, women and their views on sex and relationships.


In "Giving it Up," a New York advertising executive who specializes in selling sex to sell products is living the "almost ideal existence." He has devoted his life to attracting the opposite sex.


And it seems to be working. He has a new stranger in his bed every night. He's making fat cheddar. His hard-nosed, sexist boss (Dabney Coleman "9 to 5," "Tootsie," "Recess: School's Out" and "You've Got Mail") loves him. His apartment is lavish and full of cosmetics to polish his vessel and keep it clean. And his superhuman libido fuels his creative fires.


Enter his new boss, Elizabeth, who has heard of him and his reputation. She's smart and genuinely attractive. And quite down to earth. Ralph (Mark Feuerstein "Woman on Top" and "What Women Want"), the playboy in question is instantly smitten with her. But she's heard the word on the street and smiles, giving him the brush off.


Ralph is obsessed. He wants her. He can have every woman except the one he truly wants. Ain't it always the way? Ralph's less-lucky-in-love buddy, Peter (Ben Weber-- "Twister" and TV's "Sex in the City") asks Ralph why? Why does he want to give up the life? Apparently, Ralphie boy feels empty. He decides to "give it all up."


He's the falling Casanova. He tries to go celibate. He meets up with Elizabeth and informs her of his newfound desire to live a life with something besides sex and even tries to win her over with his outside sex-interests. Like his joy for Billy Wilder's Cary Grant-Audrey Hepburn classic "Love in the Afternoon."


Kublan's script is smart in a "Sex in the City"-type of way. Full of realistic conversations between men and women about dating, relationships, sex and their own views and look at it all.


The cast is particularly strong for an independent film. Feuerstein is a real charmer, Weber and James Lesure (From "For Your Love") are convincing and likable as his best friends. Ari Larter as the foul and lecherous super-supermodel Amber is also good for a few laughs. Amy Redford is really 100% believable as a smart, intelligent, confident (and beautiful) businesswoman who hates her self a bit for falling for this falling Casanova.


See it alone for the near Oscar-worthy performance of the magnificent Dabney Coleman, more hard-nosed, sexist and snarling than ever.


--Keeping It Up, Dane Youssef



anessf@yahoo.com

http://profile.myspace.com/index.cfm?fuseaction=user.viewprofile&friendid=58175682

http://www.google.com/profiles/youssef.daneyoussefcom.dane

http://www.amazon.com/gp/cdp/member-reviews/ASKUZHOKQ1W3E/ref=cm_pdp_rev_title_1?ie=UTF8&sort_by=MostRecentReview#R2MFYILVVRXX73

http://www.imdb.com/user/ur2718160/comments-expanded?start=0&order=alpha

http://wiki.answers.com/Q/User:DANE_YOUSSEF

http://www.epinions.com/user-surfur

http://en.wikipedia.org/wiki/User:DANE_YOUSSEF

http://en.wikipedia.org/wiki/User:SURFUR

http://uncyclopedia.wikia.com/wiki/User:DANEYOUSSEF

http://www.movieweb.com/u/dane_youssef/reviews

http://www.youtube.com/SURFUR

http://www.youtube.com/user/DaneYoussef?feature=mhum

http://hairmetal.ning.com/profile/DaneYoussef?xg_source=activity

http://www.flickr.com/people/46939743@N07/

http://twitter.com/Dane_Youssef

http://www.neoseeker.com/members/daneyoussef/
Dane Youssef
Discussion Forum
Discuss Giving It Up on our Movie forum!
News & Features