Godzilla Raids Again
(1959)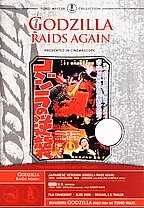 AUDIENCE SCORE
Critic Consensus: No consensus yet.
Godzilla Raids Again Trailers & Photos
Movie Info
Following an emergency landing on a deserted island in the Pacific, young pilots, Tsukioka and Kobayashi, stumble into an epic clash between Godzilla and the monster, Anguirus.
more
Cast
News & Interviews for Godzilla Raids Again
Critic Reviews for Godzilla Raids Again
All Critics (3) | Fresh (2) | Rotten (1) | DVD (4)
The human story, though a little on the prosaic side, is simple enough and sweet enough that it feels like a complement to the monster action, rather than a distraction.
Unwise in investing so much time in its human characters, who are poorly drawn and never particularly compelling.

The grand lizard rises again, after rising again and again.
Audience Reviews for Godzilla Raids Again
Bruce Bruce
Super Reviewer
Sequel to the classic monster flick, Godzilla is a worthwhile and entertaining movie that gives Godzilla a bit more back story than the first. The film boasts all the thrills and suspense and it builds up on the plot of the first. However the first film is better, and though it has its flaws, this second helping of Godzilla is still great entertainment for genre fans. In this second outing, Godzilla's name was changed to Gigantis, and given some slightly new attributes. At times the plot seems a bit unfocused, but all that matters is Godzilla destroying everything in his path, and he most certainly does that. The performances of the cast are good, and the directing and effects works are very well done. The film brings horror and drama elements brilliantly into one monster flick, and if you enjoy classic films, then give this sequel a shot. Godzilla was a stunning milestone in monster film history, a landmark horror film, and was understandable that sequels were going to be released and spawn an entire series devoted to this monster. In terms of sheer entertainment value, this entry builds up on where the first film left off, and delivers what you'd expect from a well layered and structured monster picture. Overcoming its flaws, this is a fun, entertaining and memorable film that will certainly delight fans of the genre everywhere. Godzilla steals the show yet again, and in terms of sheer entertainment, this film has a bit more monster action than the first, and a slightly more detailed plot. However, I much preferred the original, and it had a more dramatic feel to its horror content made it a classic. As it stands, Godzilla Raids is a very good sequel and it gives something different to viewers looking for mindless thrills that monster films provide.
And here we go. Thinking back on it, it probably is one of the best things for Godzilla to end up having it's numerous sequels, but at least I can safely say that this is one of the better ones. Being made right off of the coat tails of the original, I think Honda figured that he would not be able to make a Godzilla film that would be able to top the original in terms of theme, experience, and just pure film making. Instead we get something that, to me, feels like this is Toho's answer to all of the Universal monster mashes of the forties and fifties.

The main problem with this film is that the entire idea of Godzilla is lost. Yes, this does contain some of the characters from the previous film and the main idea that Godzilla is a metaphor for nuclear testing is mentioned in a creditable performance by Takashi Shimura (Dr. Yamane in the first film), but the direction and the story never really does anything with it and treats it like it's not important. I am not really clear as to why Honda decided not to really focus as much on that like he did the previous film, but there you have it.

But let us be real here: there is only one real reason why anyone would consider seeing this film. The fight scenes between Godzilla and the opponent he is set up against. This idea would later put a staple on the giant monster genre, and for the first opponent being Anguirus. I will admit that he is okay as another monster that was, like Godzilla, awoken by atomic testing back in WWII, but I am left wondering: why are they all of a sudden being discovered? Why are they as of now fighting? Why did they not fight when the original Godzilla was awoken? Well, at least this film gives a reason as to why they are fighting. But the other things I am left wondering. I will say that it was interesting to see Godzilla having his first fight and it was nice to see Toho trying different ways of staging and filming the fight scenes, I just wish that the plot and idea of the film in general would have been given more thought.

As for the other parts of the film, it is all more or less the same as the original. You have the score by Ifukube, Honda directing, and great special effects for the monsters. My thing as a film lover is just that I wanted more of plot and idea for the film instead of something that feels like a run of the mill monster bash. Is this film worth watching? I honestly say it is not. Entertaining, sure. But not a film I would revisit anytime soon. Please note: I am not saying it is bad. Just not really my type of giant monster film.
Discussion Forum
Discuss Godzilla Raids Again on our Movie forum!
News & Features