Godzilla Vs. Monster Zero
(1970)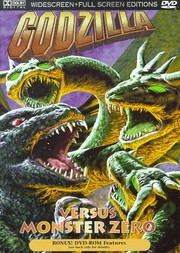 AUDIENCE SCORE
Critic Consensus: No consensus yet.
Tickets & Showtimes
Godzilla Vs. Monster Zero Trailers & Photos
Movie Info
Toho's bid to merge the Godzilla series with their popular alien-invasion films resulted in this entertainingly goofy entry. The plot involves the discovery of the mysterious Planet X in our solar system, leading to a joint U.S./Japanese space exploratory mission. The explorers bump into some aliens with no fashion sense whatsoever (even for 1965), who claim their planet has been under constant attack from the powerful Monster Zero -- also known to Godzilla fans as Ghidrah, the three-headed monster from the previous year. The aliens suggest a deal with the Earthlings: if they can "borrow" Godzilla and Rodan to help rid their planet of Ghidrah, they will cure all of humankind's diseases in return. Of course, this is actually an elaborate ruse to rid the Earth of its monstrous defenders, leaving it vulnerable to invasion. As always, it's up to a handful of resourceful characters -- including token American Nick Adams and series regular Akira Takarada -- to save the day and return Earth's monsters for the requisite city-smashing finale. After a slow start, this movie serves up a good portion of flashy pyrotechnics and noisy monster-grappling but lapses into several moments of deliberate silliness (particularly Godzilla's goofy Irish jig) and rampant use of ill-fitting footage from previous monster installments. ~ Cavett Binion, Rovi
more
Cast
News & Interviews for Godzilla Vs. Monster Zero
Critic Reviews for Godzilla Vs. Monster Zero
All Critics (2) | Fresh (1) | Rotten (1) | DVD (8)
One of the giant lizard's best-known adventures.
Audience Reviews for Godzilla Vs. Monster Zero
Another enjoyable Godzilla film. This time King Ghidra has appeared on a new found planet. The inhabitants ask to borrow Godzilla and Rodan to help them out in return for a cure to cancer. This film encompasses even more of a science-fiction tone. It does does it very well, with some nice interior designs and costumes. It once again focuses on the humans more than the monsters, even if the human characters lack some of the likability from previous outings. The monster fights aren't as impressive, with one of them taking place on a barren planet. A nice change, but no smashy :( Godzilla really begins to embrace his hero role, which makes this less horror. A nice development for the series.
Astronauts on a mission to a newly discovered Planet X orbiting Jupiter are met with friendly aliens who speak perfect japanese. Even better, the only american in the film has his english dialogue dubbed in japanese.

As with most of the later Godzilla films, the aliens have something up their sleeves and want to use Godzilla, Rodan and King Ghidorah to take over the world(s). The miniature sets are some of the best since Thunderbirds Are Go. Although there isn't as much fighting as one would like, what fights there are do not disappoint. The new dvd with original Japanese version is a great transfer making it seem like a completey new movie, being so used to the vhs dubbed version. Campy and Highly entertaining.

El Hombre Invisible
Super Reviewer
Godzilla Vs. Monster Zero Quotes
Astronaut Glenn: You rats! You stinkin' rats! What did you do to her?!
Astronaut Glenn: you should've left your sister packed in ice!
Astronaut Glenn: I've got big news for you, pal!
Astronaut Glenn: Well, we sure as hell aren't gonna wait for the next ferry! Swim!
Astronaut Glenn: Whatever's fair, pal.
Tetsui Teri: It would really stand him on his head!
Astronaut Glenn: Sure, it'll shake your teeth loose!
Astronaut Glenn: The enemy is very strong...you better do something spectacular!
Astronaut Glenn: We're gonna fight to the last man baby!
Discussion Forum
Discuss Godzilla Vs. Monster Zero on our Movie forum!
News & Features