Gone Fishin'
(1997)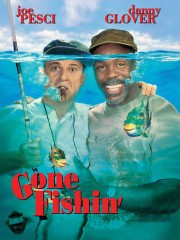 Gone Fishin' Trailers & Photos
Movie Info
Just how much trouble can two guys get into while trying to catch some fish? Joe Waters (Joe Pesci) and Gus Green (Danny Glover) are two guys from New Jersey who've known each other since childhood; they've always been friends, and they've always been inept to the point of posing a threat to life and limb (early on in the proceedings, we get to watch them blow up a factory by accident). Joe and Gus are avid fishermen, and as luck would have it, they win a trip to the Everglades to do some serious angling. They hitch their boat trailer to Joe's 1968 Plymouth and hit the road to Florida, but they run afoul of a con man named Dekker Massey (Nick Brimble), who quickly relieves Joe of his automobile. Not about to let the loss of their wheels stop them, Joe and Gus try to hitch a ride, and they get picked up by a pair of beautiful women, Rita (Rosanna Arquette) and Angie (Lynn Whitfield), who are also headed South. It seems that Dekker conned Rita's mom out of much of her valuables, and they're looking for him in hopes of getting them back; Joe and Gus get roped into helping them out, which leads to a number of misadventures involving guns, treasure maps, boat chases, and hurricanes. Sadly, the production of this comedy had tragic consequences when a stunt performer was killed and two others were seriously injured while filming a jump on a boat ramp. ~ Mark Deming, Rovi
more
Cast
News & Interviews for Gone Fishin'
Critic Reviews for Gone Fishin'
Audience Reviews for Gone Fishin'
Gone Fishing is about a couple of guys (Joe Pesci and Danny Glover) who win a contest and get to go on a free fishing trip. However, the fishing trip doesn't go as smoothly as planned. Their car gets stolen, there's a hurricane, and many other catastrophes plague them while they're supposed to be fishing.
Gone Fishin' is a decent comedy movie and has some funny parts such as the scene when Joe Pesci gets struck by lightning, but overall it's not that great. Joe Pesci and Danny Glover are two of the best comedy movie actors and Gone Fishin' is a subpar movie for both of them. It is interesting to see how the movie will turn out and what's gonna happen next when they start getting plagued by all the disasters, but the comedy portion of the movie for the most part is just not there. None of the jokes are funny and what I really didn't like about it was that the name of the movie is Gone Fishin', but they never actually get to do any fishing the entire movie!

If you've seen other Joe Pesci or Danny Glover movies, you'll find out that Gone Fishin' is not that great of a movie for them when you compare it to such movies as Home Alone and Lethal Weapon 4. However, I guess I would recommend renting this movie if you're dying to see a new comedy movie. NOTE: That was my Amazon review from the year 2000. It's indeed a subpar movie for Pesci and Glover's standards, but still worth a watch.
i was 7 but it was probably dumb
Discussion Forum
Discuss Gone Fishin' on our Movie forum!
News & Features