Gooby
(2009)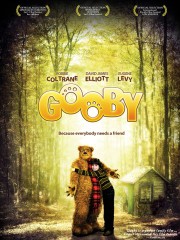 Gooby Trailers & Photos
Movie Info
Willy (Matthew Knight) has a unique concern regarding his family's new house: he firmly believes it's inhabited by malevolent space aliens. Luckily for Willy, his wish for a savior is fulfilled with the entrance of Gooby (voiced by Robbie Coltrane), a strange but lovable creature who appears more anxious about the world's dangers than he is. As the unlikely pair become friends, Gooby helps Willy and his father reunite.
more
Watch it now
Cast
News & Interviews for Gooby
Critic Reviews for Gooby
Audience Reviews for Gooby
I just watch this movie just to make fun of it. It's TERRIBLE!! And Gooby for children is probably terrifying. Bad acting and just blatantly bad
Lauren Nolan
A misfire if I've ever seen one, Gooby fails as a children's movie and more pulls a horror movie. It has a creepy title character, a bland protagonist, and too much padding.

Our star is Willie, an overimaginative boy who is frightened by his own hallucinations but feels comfort in his recognizable surroundings. When his family moves to a new house however, he is suddenly being attacked by his imagination. He wishes on his sacred amulet (don't ask, he just has one) and wishes for protection. The amulet brings his childhood stuffed bear Gooby to life as a 6 foot tall bear who pledges to protect Willie and become his life friend.

Like I said, the main problem with Gooby is the title character. The costume and animatronics are extremely poor and give off a creepy persona. As well as his lines give off a very pedophiliac feel that only makes the friendship between Gooby and Willie wrong and makes the audience feel uncomfortable. The plot is padded with an excess of whimsy that is simply boring. The actors aren't very good and seem bored in their roles. Eugene Levy is lost in this film. That's all. The editing leaves little time to get to know the charactes or answer questions and leaves us confused and angry.

Just skip Gooby. Even if you're heartless enough to want to scare your children with a creepy movie, don't show them Gooby. Leave it to die in a corner. If you do want to see it, see Obscurus Lupa and Iron Liz's review at thatguywiththeglasses.com (Real rating: 8%)
Catherine Sumida
Gooby Quotes
Discussion Forum
Discuss Gooby on our Movie forum!
News & Features