The Great Santini
(1979)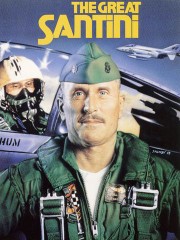 Tickets & Showtimes
The Great Santini Trailers & Photos
Movie Info
Bull Meechum (Robert Duvall) loves fighting almost as much as he loves the Marine Corps. Profane, cocky, and arrogant, he's a great fighter pilot -- and he knows it. His boss hates his guts, but knows that if he's going to straighten out his lagging squadron, Meechum is the man to do it. The story and irony of The Great Santini is in Meechum's total intolerance of family life and fatherhood. Meechum has a lovely, supportive wife, Lillian (Blythe Danner), an earnest, likeable son, Ben (Michael O'Keefe), three smaller children, and a good home, but Meechum finds the pastoral nature of peacetime totally incompatible with his gung-ho nature. So he begins to drink. He drills his family unmercifully, like recruits. He hammers his son relentlessly until, in a basketball game, his son fights back, and the family cheers Ben's efforts. Tension builds in the household until, during one drunken night, Meechum breaks down. Based on a best-selling novel by Pat Conroy, The Great Santini earned critical raves but fared poorly at the box office. Duvall's performance as Meechum is generally regarded as one of his greatest.
more
Cast
News & Interviews for The Great Santini
Critic Reviews for The Great Santini
Audience Reviews for The Great Santini
Randy Tippy
Super Reviewer
½
The Great Santini (1979): Starring Robert Duvall, Blythe Danner, Michael O'Keefe
A slow-simmering "sleeper" of a film, The Great Santini wavers between promising drama and goofy afterschool special. Robert Duvall plays "Lt. Col. 'Bull' Meechum" (the "Great Santini", although it's never explained what that means exactly), a drunken, abusive airforce lieutenant not accustomed to civilian life with his ever suffering family. Blythe Danner adopts a southern accent to play Lillian, Meechum's resolutely devoted wife. She looks at her husband with a hero-worshipper's eyes, yet doesn't necessarily forgive his abusive 'persona'. But it's the father's relationship with oldest son, Ben (Michael O'Keefe- best known for his role as "Danny Noonan" in "Caddyshack") that is the real focus of the story. The son seems to do everything he can to please his father, but it's never good enough. In a scene directly lifted and used in "Austin Powers: The Spy Who Shagged Me", Meechum repeatedly hits his son in the face with a basketball, taunting "Are you gonna cry now? C'mon, squirt a few", and "1-2-3...cry! 1-2-3... cry!" after the son dares to beat the father in a game of one-on-one. The father treats his whole family as if they were a platoon of grunts, barking orders, calling his sons his "favorite daughters", waking them up at 3am, in short, making their life a bootcamp hell. The movie begins with the Lieutenant picking his family up and moving them down to the deep south (his latest deployment is teaching flight combat to a class of pilots) and from there, the movie splits it's time between the family's inter-relations and the bigotry and racism of the 1960s. The basketball theme returns later in the movie, as the father orders the son into doing something against the rules (and his own moral judgement) and the son does so, at the expense of his team and himself. It's perhaps one time when the fathers' judgement is shown to be publically fallible, and it triggers something in the son. Later, when Ben rushes off to save his black friend, "Toomer" (Stan Shaw) from town racist "Red Petus" (David Keith) (where they come up with these names, I don't know), he disobeys his father's direct orders. This movie moves, at various times, from light-hearted comedy to serious drama (and not always with a smooth transition), and I can't say the supporting cast is always up to the acting level the drama requires. The writing helps alot, as most of the characters aren't one-dimensional, especially the Great Santini himself, Lt. Meechum. He's a mean son-of-a-bitch, but it's not an intentional hatred, any more than a pitbull intends to be vicious: it's just the way he was bred. In the end, we're left wondering if the family ever really loved him, or just wanted him gone. The script also falters at the end, though, as we get 3 or 4 false endings, and by the fourth we are just praying for it to end already.
Devon Bott
Super Reviewer
Duvall embodies cockiness to the nth degree as he sets unrealistic expectations for his offspring in living up to the greatness of Santini. It borders on annoying by the end but it is nonetheless a great character created.
Discussion Forum
Discuss The Great Santini on our Movie forum!
News & Features