Greetings From Tim Buckley
(2013)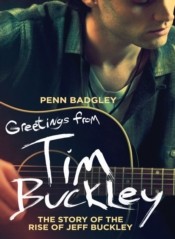 Greetings From Tim Buckley Trailers & Photos
Movie Info
In 1991, a young musician named Jeff Buckley (Penn Badgley, "Gossip Girl," MARGIN CALL) rehearses for his public singing debut at a Brooklyn tribute concert for his father, the late folk singer Tim Buckley. Struggling with the legacy of a man he barely knew, Jeff finds solace in a relationship with an enigmatic young woman (Imogen Poots, 28 WEEKS LATER) working at the show. As they explore New York City, their adventures recall glimpses of Tim's (Ben Rosenfield) own 60s heyday, as he drives cross-country with a girlfriend and finds himself on the verge of stardom. Leading up to the now-legendary show that launched Jeff's own brilliant career, GREETINGS FROM TIM BUCKLEY is a poignant mirror portrait of father and son, two of the most beloved singer-songwriters of their generations. -- (C) Tribeca
more
Cast
News & Interviews for Greetings From Tim Buckley
Critic Reviews for Greetings From Tim Buckley
Audience Reviews for Greetings From Tim Buckley
Cameron Johnson
Super Reviewer
Complete Dud.

A Tim Buckley/Jeff Buckley movie with numerous performances, yet no hint of "Morning Dew", Hallelujah", or "So Real". .. The three best songs of their combined careers. I guess the producers of this film didn't see financial justification in paying for the musical rights of any of these three songs to make a good movie out of this mess.

Don't waste your time like I did.
Chris Miller
½
★★★ (out of four)

About a year ago I became a little obsessed with both the Buckley's. I had been a fan of Jeff for over a decade, but started getting into Tim's music. I read the joint biography "Dream Brother" and found it quite fascinating.

The film "Greetings From Tim Buckley" does a pretty good job of capturing the feelings Jeff had for his father. His animosity and competitive struggle comes through and Penn Badgely gives a pretty good performance as Jeff. It's even more impressive when I learned he did his own singing for the role.

The plot centers on the true event of the 1991 tribute concert that was arranged to honor the prolific singer/songerwriter from the 1960's - Tim Buckley. Tim died of a heroin overdose in 1975 and been vacant in his son Jeff's life.

Jeff reluctantly agrees to perfom some of his Dad's songs, but he is torn between the opportunity for himself to shine as a musician and the disappointment he feels for the man he is to honor. It's a defining moment for Jeff. Of course everyone pretty much knows of the tragic drowning of Jeff just a few years later.

[IMG]http://img.photobucket.com/albums/v48/Zeppo1/TimBuckley_zpsdd7661e5.jpg[/IMG]
Steve Smith
Discussion Forum
Discuss Greetings From Tim Buckley on our Movie forum!
News & Features