Gun Hill Road
(2011)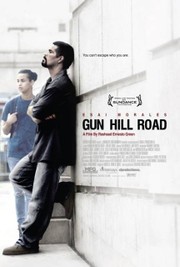 Gun Hill Road Trailers & Photos
Movie Info
After three years in prison, Enrique (Esai Morales) returns home to the Bronx to find the world he knew has changed. His wife, Angela (Judy Reyes), struggles to hide an emotional affair, and his teenage son, Michael (Harmony Santana), explores a sexual transformation well beyond Enrique's grasp and understanding. Unable to accept his child, Enrique clings to his masculine ideals while Angela attempts to hold the family together by protecting Michael. Still under the watchful eye of his parole officer (Isiah Whitlock, Jr.), Enrique must become the father he needs to be or, once again, risk losing his family and freedom. -- (C) Official Site
more
Cast
News & Interviews for Gun Hill Road
Critic Reviews for Gun Hill Road
Audience Reviews for Gun Hill Road
William Dunmyer
Super Reviewer
Sometimes the same old story CAN feel new with a slight alteration in tone, script and performance. Such is the case with GUN HILL ROAD, which could have easily been LA MISSION PT. 2 (the OUTFEST opening night film from 2 years ago) in the wrong hands, but instead transcends its own genre limitations to become a truly absorbing, deeply affecting experience.

A quick scan of the synopsis would lead you to believe this is a film about a macho father fresh from prison trying to come to grips with the fact his that teenage son isn't the baseball-loving boy he had hoped for, but is instead taking his first steps towards transitioning into a woman. LIFETIME is littered with films about disappointed parents and their emerging children. So "yawn" goes the audience when faced with another. But stick with this film and you'll be rewarded.

For me, it became obvious that this was a film of true quality very early on when our young protagonist is first introduced. Awaiting his father's return, Michael (an unforgettable debut by Harmony Santana) sits in the corner of a kitchen, hiding underneath a baseball cap, barely able to front with a little macho posturing when he utters his first words. You felt the entire life of a character completely ill-at-ease in his own skin from this quick snapshot.

The wonderful details kept piling up from there:

- Michael's peeping from inside a Girl's Room stall as he hears two girls discussing oral sex. His sense of discovery here is palpable, and the payoff to this moment is hilarious.
- the way Michael's entire demeanor changes when he's with his friends instead of with his father
- a scene in which Michael gets injections to beef up his booty is vivid, visceral, and the joy AND pain on his face is truly captivating. As much as it hurts, he STILL wants to know how it looks.
- the defeated way Michael plays baseball to placate his demanding father or, in the film's most violent scene, how he responds to the threat of a haircut. (And there are scenes of more overt violence, but this one cuts deep)
- watching Michael become "Vanessa" feels like we're really eavesdropping on his first moments of joy
- Vanessa's first kiss and how she views it compared to her player of a "boyfriend"

From the sound of it, you'd think this is the Harmony Santana show, but that would be doing a disservice to the phenomenal performances by Esai Morales and Judy Reyes.

Morales has often brought an element of danger to his roles (going all the way back to LA BAMBA), but here, you see the true vulnerability and "nice guy" trying to break free from his He-Man chains. Unfortunately all the social and religious conditioning prevents him from making the best decisions. This isn't just a Mean Dad/Innocent Son Film, because you truly see and feel that there is love present as well.

Reyes, who has done fine dramatic work in the past, but is best known for her comedic work on SCRUBS, is extremely strong here as a mother who accepts her child's destiny and supports it, while struggling to figure out a way to be happy in her own life's transitions. The MOTHER role rarely gets such shading as seen here, and her performance alone is worth the ticket.

And then there's that utterly heartbreaking final shot. I had heard that this is a film without a good ending, and I couldn't disagree more. Some of my favorite films end on a searing closeup of its protagonist (NIGHTS OF CABIRIA, PURPLE ROSE OF CAIRO, CITY LIGHTS, THE ACCIDENTAL TOURIST) to name a few. It's that moment where the look on a face tells the entire story of a character. Here, Harmony Santana (who will be next seen in a film series I have an intimate knowledge of, EATING OUT 4: DRAMA CAMP) is given the job of communicating love, grief, relief, and despair all in one tidy little shot. It's a work of beauty.
Enrique returns home from a stint in prison to find his homelife has changed. His wife is hiding an affair she had whilst he was away and his son Michael is going through a sexual/gender awakening. The bigoted father tries hard to grasp hold of his masculine ideals, whilst Angela tries her best to keep her family dynamic together.
Though the story of a man returning home from prison to find shit has changed is rather well trodden ground, the tale of Michael's transexuality and the gender politics it brings on is a nice angle.
Harmony Santana is a triumph as Michael and gives the character real empathy. The cast as a whole does very well, but I found Enrique's arc to be rather flat and his story should have held equal heading with that of his son. The juxtaposition of the two characters could have been so much more interesting. It just fell a little flat here.
An intriguing tale of sexual transformation, but not much more.
Discussion Forum
Discuss Gun Hill Road on our Movie forum!
News & Features