Haeundae (Tsunami) (Tidal Wave)
(2009)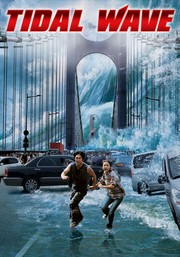 AUDIENCE SCORE
Critic Consensus: No consensus yet.
Haeundae (Tsunami) (Tidal Wave) Trailers & Photos
Movie Info
A marine biologist races to warn Korean beachgoers that a massive tsunami is headed for Haeundae, and discovers that he has a daughter he never knew about when he attempts to alert his ex-wife to the danger. ~ Jason Buchanan, Rovi
more
Cast
News & Interviews for Haeundae (Tsunami) (Tidal Wave)
Critic Reviews for Haeundae (Tsunami) (Tidal Wave)
All Critics (3) | Fresh (0) | Rotten (3)
(Je-gyun Yun's) epic, silly tidal-wave melodrama follows the template of the Western disaster opus to the letter.


... if this South Korean blockbuster... has anything to teach us, it's that the only thing cheesier than American disaster flicks is foreign disaster flicks.

Audience Reviews for Haeundae (Tsunami) (Tidal Wave)
½
I found this film really good at a disaster genre movie to come out of South Korea.
This movie is a good alternative to the usual comedies and horrors movie that mostly come out of Korea. It also takes up some real life issues about tsunamies.
The tidal wave doesn't enter the scene until over 70 minutes in, and at least 30 of those minutes could go. The story introduces a large cast of characters (and it's sometimes hard to figure out who's who), puts them in place in Busan, South Korea, and then unleashes the water.
Probably the best scene is a large set piece on a bridge after the first wave has struck. A slacker survives the deluge, then is caught up in catastrophic events involving flying guy wires that snap loose from the bridge, falling vehicles, and finally a huge fireball. Imagine Chuck Jones directing WILE E. COYOTE IN HELL with the forces of water and gravity replacing the Road Runner.
Dean McKenna
Super Reviewer
Flaunted as Korea's most expensive movie and the countries first venture into disaster movie territory. I was both excited and worried about this film. The trailers looked spectacular but I was concerned about the melodrama. I'd also read that the effects were not very impressive. It built the suspense really well. With disaster movies you know what's coming, the trailers pretty much give you the third act. Therefor, it is the job of the screenwriter, actors and directors to make us care about what is going to happen. Haeundae does this well by unfolding as a drama. People have their own problems, especially a close-knit community that suffered tragedy during the 2004 Asian tsunami. All this drama is handled well and connects us with the characters. Even the usual generic scientist that warns everybody has a human story going on concurrent to his explanations and discoveries. Once the tsunami comes we are treated to a wide range of set-pieces, each one more spectacular than the last. Only one scene, on a bridge, goes TOO far, using the comedic relief character as a catalyst for a huge explosion. In some places the film does too much, towards the end we have a large number of slow-motion crying sequences and reached out arms as people stare at their doomed love ones. It does work, a few times, but then just feels intrusive. The slapstick comedy is also overused. Hitting people can only be funny for a certain number of times in 2 hours and when it constantly happens to the same character, it loses it's effect. These are all pretty minor flaws for a disaster movie. The effects were fantastic, especially given the budget. On the big screen this was a very powerful film in all regards. This is truly a summer blockbuster, exciting entertainment, thrilling action, moments to make you laugh, moments to make you cry and moments to make your jaw hit the ground.
Discussion Forum
Discuss Haeundae (Tsunami) (Tidal Wave) on our Movie forum!
News & Features