The Handmaid's Tale
(1990)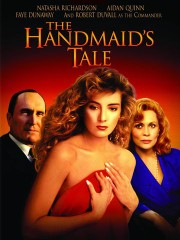 The Handmaid's Tale Trailers & Photos
Movie Info
Margaret Atwood's vision of a fundamentalist Christian dystopia is grimly fascinating, but much less trenchant than it might have been. It takes place in a future where pollution has rendered 99 per cent of the women in the U.S. infertile. The country is ruled by a fundamentalist Christian dictatorship, which has sequestered all fertile women to serve as breeders for sufficiently wealthy families. Made slightly after the heyday of the Christian right, the film clearly intended to do for that movement what Orwell did for Communism in 1984 -- to envision the consequences of its ideology. But, the film's imagination is limited, and concentrating as much as it does on the mandated child-bearing relationship of Robert Duvall, Natasha Richardson, and Faye Dunaway, it seems less a satire of a madly conservative theocracy than the more banal story of a maid trying to avoid her boss' advances. Schlondorff does little to enhance the film's apocalyptic intentions, shooting and framing much of it like a gothic romance gone awry. Duvall and Dunaway are as effective as they can be within the ritualized framework of their characters, but Richardon is strangely pallid as an ostensible rebel. Elizabeth McGovern has the best of it as a free-spirited "gender traitor" or gay woman, and her few scenes come as a welcome relief.
more
Cast
News & Interviews for The Handmaid's Tale
Critic Reviews for The Handmaid's Tale
Audience Reviews for The Handmaid's Tale
The film adaptation of a dystopian future as envisaged by Margaret Atwood. Part morality tale, and part cautionary, told with a touch of intrigue. Natasha Richardson plays a woman caught in a web of moral rationalization and becomes the chosen vessel for the Commander's (Robert Duvall) seed. His wife (Faye Dunaway) holds the reigns of power. This film does not hold up well, as most tales of the future do not. The prop master is limited in what technology he can predict and therefore the film looks dated. However, the moral and religious climate still makes the basic premise a possibility and for that, the story still resonates. Well done, but this viewer would recommend the book over this. The three main actors do a credible job, as do the supporting actors, Aidan Quinn and Elizabeth McGovern.
The screenplay and the film fall short of Margaret Atwood's novel. It seems more like Lifetime porn than a disturbing look at a possible future. Disappointing.
Discussion Forum
Discuss The Handmaid's Tale on our Movie forum!
News & Features