The Hanoi Hilton
(1987)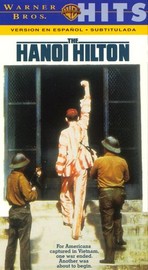 AUDIENCE SCORE
Critic Consensus: No consensus yet.
Movie Info
Lionel Chetwynd's film documents the horrific struggles that faced American POWs held in the North Vietnamese prison Hoa Lo -- more infamously known as the Hanoi Hilton -- between 1964 and 1975. Williamson (Michael Moriarty) leads a group of American servicemen who are prisoners at the detention camp. He assumes command after Cathcart (Lawrence Pressman) is dragged off to be tortured.
more
Watch it now
Cast
News & Interviews for The Hanoi Hilton
Critic Reviews for The Hanoi Hilton
Audience Reviews for The Hanoi Hilton
bill secor
Cannon Films spent most of the 1980's solving the Vietnam Conflict by sending in Chuck Norris or some other B-movie action star in country to single-handedly win the war and rescue captured P.O.W.'s. When they made "The Hanoi Hilton", however, they made their first serious film on the subject and it's marginally successful.

Writer/director Lionel Chetwynd interviewed hundreds of P.O.W.s, including Senator and Presidential hopeful John McCain, to make his scenes as accurate as possible, but conditions for these men were no doubt substantially worse than they are depicted here. Many of the Americans were disturbingly nonchalant about their situation, but the movie does honor their bravery and courage, which is where it excels.

There is a stirring moment in which Lawrence Pressman's character urges the men to salute and heed their military ranking even as prisoners. It's a great speech, and it is dutifully followed in the film even though there is some debate as to whether or not that would have been allowed in this situation. The American characters are fleshed out, and Michael Moriarty is given a rare chance to act, which he does quite nicely. He just seems to take it all in stride, which is kind of aggravating.

However, their captors are cartoonish caricatures and only Aki Aleong as the Vietnamese Major is made the feel like a real person. The ending feels abrupt after all the time we spend with these people, as the details of their release are somewhat vague.

I had mixed feelings about "The Hanoi Hilton", a well meaning but somewhat dubious film. The story it tells, however, is a vital one.
Timothy Sanders
Michael Moriarty, Jeffrey Jones, and the FACT it was based on a true story are the only things this movie has going for it.
FilmGrinder Stone
Discussion Forum
Discuss The Hanoi Hilton on our Movie forum!
News & Features