Heartburn
(1986)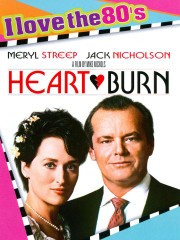 Tickets & Showtimes
Heartburn Trailers & Photos
Movie Info
Though she always played coy about the fact in interviews, Nora Ephron's novel Heartburn is a thinly disguised "à clef" rehash of her marriage to Washington Post reporter Carl Bernstein. Meryl Streep plays Rachel, an influential food critic who marries charismatic columnist Mark (Jack Nicholson) after a whirlwind courtship. Warned that Mark is constitutionally incapable of settling down with any one woman, Rachel gives up her own job to make certain that her marriage works. When Rachel announces that she's pregnant, Mark virtually jumps out of his skin with delight. But as the news sinks in, Mark chafes at the impending responsibilities of fatherhood, and the philandering begins -- as if it had ever really stopped! Our favorite scene: Rachel and her friends being robbed at her therapy group -- that's Kevin Spacey as the robber, in his film debut. Meryl Streep's real-life child Mamie Gummer also appeared in the film as Rachel's daughter.
more
Cast
News & Interviews for Heartburn
Critic Reviews for Heartburn
Audience Reviews for Heartburn
The marriage between a columnist and his wife degrades when she discovers his infidelity.
Nora Ephron makes me hate white people. These two privileges, upper-class, yuppie white people smack of the kind of white sense of entitlement that would make me turn into Malcolm X. Thinking about Ephron's films, I can't remember a single non-white character who isn't carrying a tray or, as is the case in this film, saying, "Meesus Forman" in a caricature of a Hispanic maid; her main complaint about Rachel nemesis in the film is that she's "messy," as though the only way this woman can evaluate one's character is through her work.
Now, I suppose you're saying that since race isn't a concern for Ephron, it's unfair to bring it up, or you're saying that Woody Allen has only one African American character in his entire oeuvre (Cookie from Deconstructing Harry) who merely serves to set up a racist joke. It's true that Ephron isn't writing about race, but it's nonetheless inappropriate to have the only depiction of nonwhites in subservient roles; if race isn't one of Ephron's concerns, then don't include any nonwhites in any role; have a white maid. Eliding nonwhites seems less offensive to me than confining nonwhites. And I admit one of Woody Allen's weaknesses is his single-color pallet, but in his entire film collection, there is only one instance where a nonwhite is confined to a subservient role, and this a non-speaking maid in Hannah and Her Sisters. As racist depictions go, Allen's not good, but Ephron is horrid.
The detestable depiction of race in Heartburn isn't the only thing that bothered me about the film. The conflict literally doesn't start until the film is forty-seven minutes old. For an eternity, we have to watch these yuppies be unpardonably happy with their courtship, their child, and their seemingly insouciant ability to get over their fears of marriage and commitment - serious fears that are glossed over and defeated with some simple spooning. It's so boring in a way that only the overly saccharine Ephron can bore one.
The half-star bonus point is for Jack Nicholson who has some good moments and for one scene with a jewelry salesman that was well-written.
Overall, after Julie and Julia and Bewitched, one would think that I'd learn my lesson.
Jim Hunter
Super Reviewer
Bittersweet comic drama that knowing the actual background inspiration is at times uncomfortable to watch. Nicholson is fine but Meryl's is the performance that really stands out. A high quality supporting cast however isn't really put to good enough use.
Discussion Forum
Discuss Heartburn on our Movie forum!
News & Features