Herbie Rides Again
(1974)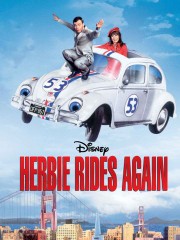 Tickets & Showtimes
Herbie Rides Again Trailers & Photos
Movie Info
Herbie Rides Again is the first sequel to Disney's fabulously successful The Love Bug. The emphasis here is on Mrs. Steinmetz (Helen Hayes), a feisty old San Franciscan who refuses to sell her home to conniving developer Alonzo Hawk (Keenan Wynn). Hawk's nephew, lawyer Willoughby Whitfield (Ken Berry), joins Mrs. Steinmetz's camp when he falls in love with her niece Nicole (Stefanie Powers). (This, of course, is after Nicole angrily slaps Willoughby with a boiled lobster, sending him plummeting over a balcony railing and into the drink). The day is saved by Herbie, the almost-human Volkswagen, who rallies every VW in town to thwart Hawk's machinations. Herbie Rides Again performed admirably enough to inspire still another sequel, Herbie Goes to Monte Carlo.
more
Cast
News & Interviews for Herbie Rides Again
Critic Reviews for Herbie Rides Again
Audience Reviews for Herbie Rides Again
Really great madcap comedy-adventure of Herbie to protect her leading lady Helen Hayes by saving her beloved Victorian firehouse home from the wrecking ball of greedy real estate Keenan Wynn. Wynn is so hilarious as Disney's most lovable villian.
Dean McKenna
Super Reviewer
Herbie Rides Again Quotes
Willoughby Whitfield: Good morning, Miss Milicent.
Secretary: Good morning.
Willoughby Whitfield: Mrs. Steinmeintz!
Secretary: I told you that Mr. Hawk was busy.
Alonzo Hawk: (He's in Rome; he sees the Coliseum) What a location.
Taxi Driver: Ah, see, the mighty Coliseum. The Glory of Rome. Doesn't stir your imagination?
Alonzo Hawk: You bet it does, baby. Do you realize what a shopping center we can put up there? Plenty of parking, too.
Alonzo Hawk: (being stopped by a policeman in traffic) The traffic commissioner shall hear of this!
Traffic Commissioner: I *am* the commissioner.
Alonzo Hawk: Then what are you doing in that monkey suit? A traffic commissioner would dress in dignified clothes.
Traffic Commissioner: This happen to be my dress uniform. I was on my way to the ceremony for I Am A Policeman Day.
Secretary: I'm sorry, Mr. Hawk. I called the motel but they said that your nephew checked out.
Alonzo Hawk: (angrily) What do you mean he's checked out? When? Where? Who told him that he could check out? How dare that he disappear when he knows that I'm worried sick? I'll tear his chicken-livered gizzard to pieces! I'll stomp him silly! I'll take this letter knife, and I'll stab that kid right in his ungrateful breastbone! You know me Millicent, normally I'm a kindly, fun-loving fellow! But when I get crossed...
Alonzo Hawk: (weakly, slumping down at the desk)
Alonzo Hawk: I go bananas.
Discussion Forum
Discuss Herbie Rides Again on our Movie forum!
News & Features