Hercules and the Captive Women
(1961)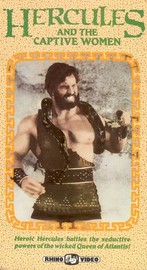 AUDIENCE SCORE
Critic Consensus: No consensus yet.
Movie Info
Hercules (Reg Park) and King Androcles (Ettore Manni) are on an ocean expedition when Androcles is washed overboard during a storm near a mysterious island. Making landfall, Hercules finds that the island is the kingdom of Atlantis, ruled by a beautiful, cruel, and ambitious queen, Antinea (Fay Spain), who controls a mysterious source of power. She has transformed her personal guard into super-strong warriors -- each nearly a match for Hercules, put Androcles under her spell, and inflicted terrible wounds on her people, all in preparation for her plan to conquer the world. Hercules finds that her power stems from a source older than the gods on Olympus, one over which he has virtually no power. He must save his friend, release Antinea's people, and prevent her from carrying out her plans.
more
Comptoir Franšais du Film Production (CFFP)
Watch it now
Cast
News & Interviews for Hercules and the Captive Women
Critic Reviews for Hercules and the Captive Women
All Critics (3) | Top Critics (1) | Fresh (0) | Rotten (2) | DVD (2)
Goofy enough to be enjoyed on its own merits, but the "MST3k" version is pure gold.
Capital Times (Madison, WI)

Audience Reviews for Hercules and the Captive Women
Bruce Bruce
Super Reviewer
½
A prophecy of doom sends Hercules sailing off in a random direction until he eventually lands on Atlantis where an evil queen is creating an army of supermen with the help of her pet rock. Herc literally naps through the first third of the movie, and you'll want to as well; picks up a bit after that, but sets and costumes are the only high point in this sword and sandal snorefest.
68%

"In ages passed, before Zeus, your father, reigned over the earth and mankind. Another God, emenece and powerful, dominated Olympus, URANUS!"-High Priest of Uranus

Depending on your maturity level, the Uranus diolog can be quite comical. Do not be fooled by the title. it's actually about men who have been captured by Uranus loving nazis from Alantis.

"The blood of Uranus can never be destroyed."-High Priest
FilmGrinder Stone
Discussion Forum
Discuss Hercules and the Captive Women on our Movie forum!
News & Features