The Heroic Trio (Dung fong saam hap)
(1993)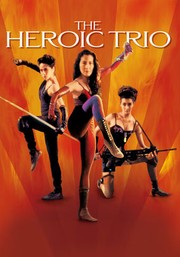 The Heroic Trio (Dung fong saam hap) Trailers & Photos
Movie Info
In this cartoonish live-action martial arts feature, three female super-heroes battle the forces of evil in the form of a woman who has hatched a plot to create China's next ruler. Over the years, she has stolen over a dozen children from their families. She hopes to raise them in a way that will make them into ruthless supermen. Among other things, the children are "hardened" by feeding them with human flesh. Thief-Catcher, Invisible Woman, and Wonder Women use their incomparable kung-fu skills to battle their nemesis and even some of the more seriously ruined children in order to protect the world from being taken over by them. Along the way, two of the women discover that they are sisters who were separated as infants. The film contains some scenes showing cruelty and violence being handed out to infants and children, and these may be distasteful for many. Viewers should also note that the Wonder Woman in this film is not based on the American comic-book character portrayed by Lynda Carter, but is a home-grown Chinese invention. ~ Clarke Fountain, Rovi
more
Watch it now
News & Interviews for The Heroic Trio (Dung fong saam hap)
Critic Reviews for The Heroic Trio (Dung fong saam hap)
Audience Reviews for The Heroic Trio (Dung fong saam hap)
Tsubaki Sanjuro
Super Reviewer
An outrageous action movie, showcasing three of Hong Kong's most talented actresses.
Dean McKenna
Super Reviewer
Utterly ridiculous comic book-style popcorn movie filled with insane laugh-out-loud action sequences. Will test your tolerance for campiness and inappropriately bouncy keyboard-driven soundtracks. People ride barrels propelled by dynamite, motorcycles become twirling projectile weapons, indescribable worlds exist beneath manhole covers, heads are severed with throwable bladed chainmail beekeeper helmets, bodies stripped to muscle and bone continue to fight, papers blow around in enclosed laboratories, and hospitals are the most frequent locations for violent crime. And that's just for starters.

Amid all this crazed silliness they somehow assembled the ultimate Dream Team of female Hong Kong talent: Anita Mui, Michelle Yeoh, and Maggie Cheung! Unbelievable, on top of unbelievable! I watched this because it ranked #47 on YesAsia's Top 100 Hong Kong Films of the Nineties list, and it decidedly earns its place for the casting alone.

There's an enormous amount of dementia in this movie's DNA to overcome but in the end I had fun. I will allow that I would probably add a half-star if I saw a subtitled version instead of this juvenile dub, but at least it was widescreen.
Doctor Strangeblog
Super Reviewer
Discussion Forum
Discuss The Heroic Trio (Dung fong saam hap) on our Movie forum!
News & Features