High Society
(1956)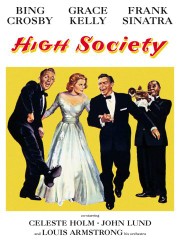 High Society Trailers & Photos
Movie Info
High Society is a glossy Technicolor-and-VistaVision musical remake of Philip Barry's The Philadelphia Story (1940), decked out with million-watt star power and a Cole Porter score. Set amongst the rich and famous in Newport, RI, the story revolves around the wedding plans of socialite Tracy Lord (Grace Kelly). Tracy is all set to marry stuffy George Kittridge (John Lund), while magazine writer Mike Connor (Frank Sinatra) and photographer Liz Imbrie (Celeste Holm) intend to cover the ceremony. Meanwhile, Tracy's ex-husband C.K. Dexter-Haven (Bing Crosby) also comes calling, ostensibly to the attend the annual Newport Jazz Festival, but actually for the purpose of winning Tracy back. In the course of events, Mike falls in love with Tracy, and she with him. The Jazz Festival subplot allows scriptwriter John Patrick to bring Louis Armstrong into the proceedings, much to the delight of anyone who cares anything about music. The Cole Porter tunes include the Crosby-Sinatra duet "Well, Did You Evah?," the Crosby-Armstrong teaming "Now You Has Jazz," the Kelly-Crosby romantic ballad "True Love," and the Sinatra solo "You're Sensational." Though it lacks the satiric edge of the Philip Barry original (Barry, incidentally, is not given any screen credit), High Society succeeds on its own lighthearted terms. The film represents Grace Kelly's final acting assignment before her real-life wedding to Prince Rainier of Monaco. ~ Hal Erickson, Rovi
more
Cast
News & Interviews for High Society
Critic Reviews for High Society
Audience Reviews for High Society
Daniel Mumby
Super Reviewer
½
"If my wonderful, beautiful, marvelous virtue is still intact, it's no thanks to me, I assure you."

High Society is an irreverent, star-studded, music infused lite-romance set amongst the idle rich of Newport, Rhode Island. Quite funny and rarely serious for long, High Society revolves around wealthy and gorgeous Samantha Lord (Grace Kelly), and the three men competing for her affection as her wedding day draws near.

Bing Crosby stars as her ex-husband, John Lund as her current fiancĂ (C), and Frank Sinatra as a visiting reporter come to cover her wedding for a gossip rag. Most of the entertainment from the film comes from Sam bouncing around between the three men, as she goes from a frosty goddess to a warm, fun woman truly ready to marry. I'm sure her behavior in the movie seemed a bit risquĂ (C) at the time, but it's all ultimatly innocent in the end. And of course by the finale, (almost) everyone is happy.

There are quite a few songs sprinkled throughout the movie, with Crosby, Sinatra, Kelly, and Celeste Holm all getting a chance to belt out a tune or two. Louis Armstrong serves as something of an on-screen narrator, and also plays occasionally with his band. The songs are pleasant, with more than one or two likely to have you humming along.

Grace Kelly fans will be quite pleased with this, as she rarely looked more stunningly beautiful and gets to show off both her comedic skills and singing talents. She's quite funny, here, and carries a large share of the comedic burden as the movie goes on. Her chemistry with all the other leads is solid, and she carries off Samantha's mini-transformation quite well. Basically, if you weren't a fan of hers before seeing this, I'd be pretty amazed if you weren't smitten with her by the time the credits roll. This was her last role before leaving Hollywood for Monaco, and she definitely went out on a high note (pun not intended).

High Society is a charming, fun movie that should appeal to fans of classic films, musicals, or any of the cast. It's hard not to smile as you watch it, but why would you want to avoid it, anyway?
½
Grace Kelly, Bing Cosby, Frank Sinatra, What a cast, not to mention great music, ie, It's in the stars next July we collide with Mars.
Discussion Forum
Discuss High Society on our Movie forum!
News & Features