The Hills Have Eyes, Part 2
(1985)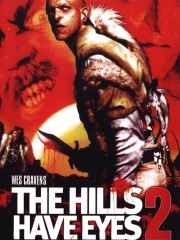 The Hills Have Eyes, Part 2 Trailers & Photos
Movie Info
In part I, the reason Wes Craven's "hills had eyes" was because the cannibals that lived there were lying in wait for their next meal which happened to be a family from Cleveland. In this sequel filmed in 1983, the only survivor of the family is trying to overcome his nightmares (which allow for flashbacks to the first film). Meanwhile, an escapee from the cannibal family is taking some motorcycle racers on a bus ride to a competition when they cross through the same desert locale that she once called home. Sure enough, hunger strikes again. The soft-spoken Craven's sense of humor and perspective has an outlet in one scene when even the dog has flashbacks. This less satisfactory horror film was released almost simultaneously with Craven's hugely popular Nightmare on Elm Street.
more
| | |
| --- | --- |
| Rating: | R (adult situations/language, nudity, violence) |
| Genre: | Horror |
| Directed By: | Wes Craven |
| Written By: | Wes Craven |
| In Theaters: | Sep 12, 1985 Wide |
| On DVD: | Sep 3, 2002 |
| Runtime: | |
Cast
News & Interviews for The Hills Have Eyes, Part 2
Critic Reviews for The Hills Have Eyes, Part 2
Audience Reviews for The Hills Have Eyes, Part 2
½
The Hills Have Eyes Part II starts with Bobby (Robert Houston returning from the original) having a session with a psychiatrist (David Nichols) as he is still haunted by the events of 8 years earlier. Since those events Bobby has created a brand new type of fuel named 'Super Formula' that he & some friends are going to test out in the desert in a dirt-bike race. However he gets cold feet & decides to stay behind, so it's down to riders Roy (Kevin Spirtas as Kevin Blair) his blind girlfriend Cass (Tamara Stafford), Harry (Peter Frechette) who turns out to be the practical joker, Hulk (John Laughlin), the mechanic Foster (Willard E. Pugh) & his girlfriend Sue (Penny Johnson) who also double us as the obligatory token black characters & finally Bobby's friend Rachel (Janus Blythe, another returnee from the original) who was Ruby from the first film but has now turned civilised to drive out deep into the desert for the race. Unfortunately after a mix-up with the time it appears that they won't make the start in time, in time that is unless they take a shortcut across the open desert where they damage their bus & become stranded at a abandoned house. It's not long before they come under attack from more cannibal cavemen including Pluto (Michael Berryman) who actually survived the original after all... Written & directed by Wes Craven this sequel to his original The Hills Have Eyes (1977) is probably not as good & has a bad reputation but despite this I actually found it an alright way to pass 85 minutes. The script has a decent set-up, I surprisingly quite liked the characters even if they were stereotypes & I thought it moved along at a fair pace. The one thing I didn't like about The Hills have Eyes Part II is the slow middle section which started to drag after a promising set-up & not a lot of thought was put into it's reasoning. It descends into standard slasher film mode towards the end but I thought it handled itself reasonably well although it could have done with a slightly better bad guy rather than an ugly fat drunk looking bloke who can't even run properly. I personally don't think the flashbacks from the original harm The Hills Have Eyes Part II much, they are few in number & are all over before the halfway mark despite what you may have read elsewhere. Director Craven manages to create some decent scenes & good atmosphere which he is aided immensely by the Californian desert locations as they add a unique picturesque bleakness & beauty to the film & make for a perfect isolated location that many horror films rely on. The cinematography by David Lewis capture these locations pretty well & as a whole The Hills Have Eyes Part II is well made with some OK bike stunts & considering it supposedly only had a budget of $1,000,000 I didn't think it turned out so bad. The gore is somewhat tame but more plentiful than the original, someone is impaled, there is a slit throat, some severed limbs & dead bodies & a hatchet stuck in someone's head. The acting is OK for what it's worth, which isn't much. While I can't say The Hills Have Eyes Part II is a particularly good film I can't say it's a bad one either, I found it quite watchable & to an extent entertaining. If your stuck for something to watch for 85 minutes than I think you could do a lot worse than this, worth a watch at least.
Yep... even worse than the first. I just couldn't help but laugh at how lame it was. Maybe (if I were old enough at the time) I should have watched it back then to see what kind of thrill factor it left, but in these days it's just boring and dumb.
Discussion Forum
Discuss The Hills Have Eyes, Part 2 on our Movie forum!
News & Features