Honeymoon
(2014)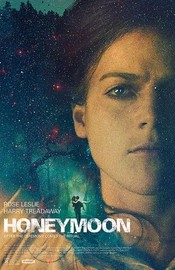 Honeymoon Trailers & Photos
Movie Info
Young newlyweds Paul (Harry Treadaway) and Bea (Rose Leslie) travel to remote lake country for their honeymoon, where the promise of private romance awaits them. Shortly after arriving, Paul finds Bea wandering and disoriented in the middle of the night. As she becomes more distant and her behavior increasingly peculiar, Paul begins to suspect something more sinister than sleepwalking took place in the woods. Treadaway (CONTROL) and Leslie (HBO's GAME OF THRONES) give captivating leading performances as a couple that takes new love to disturbing depths. With romance slowing giving way to terror, writer/director Leigh Janiak puts her unique stamp on this intimate, chilling thriller. (c) Magnet Releasing
more
| | |
| --- | --- |
| Rating: | R (for disturbing bloody images, sexual content and language) |
| Genre: | Drama |
| Directed By: | Leigh Janiak |
| Written By: | Phil Graziadei, Leigh Janiak |
| In Theaters: | Sep 12, 2014 Limited |
| On DVD: | Jan 13, 2015 |
| Box Office: | $9.2k |
| Runtime: | |
Cast
News & Interviews for Honeymoon
Critic Reviews for Honeymoon
Audience Reviews for Honeymoon
As a horror it fails abysmally, but the mystery elements actually work quite nicely, and the drama/relationship-y stuff is pulled off well also.
Full Disclosure: My BFF Christopher S. Capp edited this film and I've met the writers and director at an early rough cut screening. Despite having had the privilege of seeing the film evolve over time, I'm very committed to reviewing the finished product and not allowing my connections to it influence my opinion.

If you're a fan of THE EXORCIST, ROSEMARY'S BABY, ALIEN, THE FLY, INVASION OF THE BODY SNATCHERS, and let's throw in FUNNY GAMES while we're at it, then HONEYMOON will creepily, eerily, and viscerally knock you out. Director Leigh Janiak and her Co-Writer Phil Graziadei, in their feature debut, have crafted a deceptively simple, low budget horror sci-fi film within the framework of an evolving relationship.

The story of Rose (GAME OF THRONES' Rose Leslie) and Paul (PENNY DREADFUL's Harry Treadaway), newlyweds who spend their honeymoon in a (where else?) remote cabin in the woods begins as a schmoopified look at young'uns in love. Its opening image of cans tied to the rear bumper of a car as they're pulled down the road sets the stage for a romantic comedy, yet it doesn't take long for things to feel a little off. Despite having palpable chemistry, there's something a little unctuous about the way they play out their trademark interaction. He calls her "honey bee" and she makes a buzzing sound as she touches his lips. With love talk that gooey in a film like this, it's only a matter of time before someone gets stung. The way Rose looks at Paul with almost pained longing almost feels too private for us, the audience, to see. All the beats are in place for a hot, steamy love story, which by itself may not be the most fascinating thing to observe. But don't tune this section of the film out, because every moment means something later. Besides, Janiak and Graziadei are smart enough to show us cracks in the relationship early on. An offhanded remark made during a discussion about having children, or a challenge unmet to go skinny dipping create little fissures between our perfect couple. It's not long before the act of preparing breakfast becomes uncomfortable. A visit to a local restaurant owned by a childhood friend and his wife proves disturbing in unexpected ways. Ben Huber and Anna Brown, the only other cast members in the film, make indelible marks in their extremely brief camera time.

Without spoiling anything, something deeply unsettling occurs that changes the rest of the viewing experience. Janiak beautifully calibrates this shift into horror while staying laser focused on the evolving relationship dynamics of the main pair. ROSEMARY'S BABY may have covered similar territory, but the evil here is far less explicit. Instead of over-explaining everything, Janiak chooses the far scarier route of allowing the audience to fill in the blanks. We're still given the icky, gooey, "I can't look at the screen" money shot (trust me, you'll know it when you see it), but the "why" of it all is up to you.

Technically, this film is a model for what you can accomplish on a tiny budget. Cinematographer Kyle Klutz gives the movie a sun-dappled sheen that shifts subtly into scary, inky darkness. To go from body fetish (our two leads are gorgeous) to body horror over the course of 87 minutes is no small feat. Composer Heather McIntosh has to cover a lot of ground as well, from almost 70s TV Movie love themes to screeching strings straight out of THE EXORCIST. She doesn't make obvious choices and the breadth of her work is impressive. Same goes for the Editor, Christopher S. Capp, who has managed to navigate this jumble of genres and still make it feel like one complete film experience.

HONEYMOON perfectly builds its sense of dread. By the end, I was spent. While so little is explained on a horror level, so much is said about the lengths people will go to in order to preserve a relationship. There will be those who will wonder why one of our main characters doesn't cut and run. HONEYMOON, however, supports its premise that if you love someone, you will do whatever it takes to protect them, even if that sense becomes horribly, irrevocably skewed. I look forward to what Janiak and Graziadei do next with orifices. Long live the new flesh.
Discussion Forum
Discuss Honeymoon on our Movie forum!
News & Features