Hot Potato
(1976)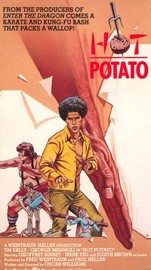 Want to See
Critic Consensus: No consensus yet.
Movie Info
Karate expert Jones (Jim Kelly) is sent to Thailand to free a politico's daughter (Judith Brown) from enslavement to an evil war monger (Samuel Hiona).
more
Cast
News & Interviews for Hot Potato
Critic Reviews for Hot Potato
All Critics (1) | Top Critics (1) | Fresh (0) | Rotten (0)
Audience Reviews for Hot Potato
Tim Salmons
Super Reviewer
I'm generally extremely kind and understanding when I rate and review movies. Very rarely do I ever give out a rating this low. This time, I just could't hold back. Even for a low-budget, cheesy exploitation picture, this is just pure dog shit. It's more martial arts than blaxploitation (which I'm okay with). However, I was led to believe there would be some crossover as this was apparently supposed to be a sequel of sorts to Black Belt Jones. However, the only things linking the two are Jim Kelly and Oscar Williams. They don't even call Kelly's character Black Belt Jones...they just call him Jones.

Anyway, this movie, unless you read into it, can't be blaxploitation since Kelly is a token here. You could read into it and say that because he is a token it is exploitative, but i refuse to do that as this film ain't worth reading into or analyzing. The writing and direction are crap, the performances are terrible (even Kelly is just okay), Rhino is an annoying and obnoxious character, and this film is just plain boring. Maybe a couple of the action scenes are mildly okay, but the majority of this film is retarded, inept, and just awful.

The DVD cover makes it seem like it will be some sort of cool Indiana Jones type of film. I would actually have enjoyed that, as that would have been cool (had it been done right, that is). This is just crap. They even rip off paets of the James Bond theme in what I believe was an attempt to be cool and reerential. It just comes off as stupid and pointless...like the rest of the film.

Even one moment where they make a funny reference/joke to Tom Jones (which I liked) is ruined by the fact that they take it too far and it becomes overbearing, offensive, and dull. Avoid this one. It gives genre pictures a bad name.
Chris Weber
Super Reviewer
A Thai warlord (Sam Hiona), looking to prevent American foreign aid from hobbling his dictatorial influence, has kidnapped the daughter of an influential senator. To rescue her, the top brass send in a karate commando (Jim Kelly), his two mercenary buddies (George Memmoli & Geoffrey Binney), and a local navigator/martial arts master (Irene Tsu). Hot Potato has lots of slapsticky fight scenes and writer/director Oscar Williams makes ample use of Thailand's beautiful landscapes in his location shoots, but this movie suffers from awkward sound editing and pacing issues. Its main problem, however, is that the movie's many attempts at "humor" come off as tired, labored, draggy, and obnoxious (George Memmoli's Rhino character gets especially grating after a while). I can definitely see how Hot Potato could've wound up as enjoyable as some of Jim Kelly's other martial arts films, but only the most generous fans of grindhouse cheese will be able to overlook the faults in this movie.
Discussion Forum
Discuss Hot Potato on our Movie forum!
News & Features