House of Fears
(2007)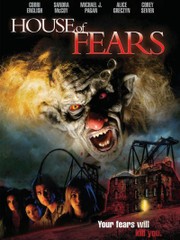 AUDIENCE SCORE
Critic Consensus: No consensus yet.
Tickets & Showtimes
House of Fears Trailers & Photos
Movie Info
Unrest star Corri English headlines this haunted house shocker about a group of teens forced to confront their most primal fears. All they wanted was to experience a cheap thrill or two by exploring a house that was said to be haunted, but after discovering an exotic artifact these six teens will become trapped in a labyrinthine house of unimaginable horrors. Will anyone be left to tell their horrifying tale when the morning sun ascends over the horizon, or could this evil be powerful enough to consume them all body and soul?
more
Cast
News & Interviews for House of Fears
Critic Reviews for House of Fears
There are no critic reviews yet for House of Fears. Keep checking Rotten Tomatoes for updates!
Audience Reviews for House of Fears
I'm not really a fan of the horror genre, but it doesn't take a horror expert to realize when you're watching a poorly-constructed film. House of Fears revolves around six self-centered, one-dimensional teenagers who decide to break into a local haunted house shortly before it becomes open to the public. The haunted house has nine different areas, each with their own specific "fear" such as clowns, spiders, knives, etc. Once they arrive, they realize they're locked in and there's no way out. Slowly (and painfully), each character is killed off, one by one.

First and foremost, what irritated me was how predictable it was. I'm not exaggerating when I say that I have NEVER watched a more predictable movie in my life. About twenty minutes in, I could already predict nearly everything that would happen for the remaining hour. Before they enter the haunted house, each character orally declares what their biggest fear is. Once the first character dies of said fear, it becomes quite obvious that that's how every other character will die. Also, whenever characters enter the room that involves their biggest fear, shouldn't it have occurred to them that they should get the hell out of there? Somehow, though, that train of thought never entered their thick skulls. They even had a chance to kill one of the main antagonists. He was just lying, seemingly lifeless, on the ground next to them, and one of the six teens had a chainsaw in her hand. For some reason, they just left. But guess what? As soon as the birdbrains leave, he gets right back up again, still thirsty for blood...

The acting was laughable. All six teens made Jennifer Lopez in "The Backup Plan" look like Marlon Brando in "The Godfather." The script is filled to the brim with cheesy, unrealistic dialogue such as "I don't like it here. Let's go to my house and then make out" and "My biggest fear is getting struck by lightning on my crotch."

The visuals were solid, but other than that, it was horribly scripted and acted, and was plagued by so many cliches. To be completely honest, it wasn't even very scary. I really advise against seeing this stinker.
Brandon Williamson
Super Reviewer
A Zach Morris look-a-like and a bunch of other made-for-tv teenagers spend a completely forgettable night in the most un-frightening haunted house of all time. Director Ryan Little, master of suspense, his cinematic tension building skills recall only but the finest of Scooby Doo episodes. I'm not sure if even a talking dog could have done any more to improve upon the greatness that is "HOUSE OF FEARS". Stay tuned for 'House of Fears 2: the Mores the Scariers'
Brett Warren
Super Reviewer
Discussion Forum
Discuss House of Fears on our Movie forum!
News & Features