Hysterical
(1983)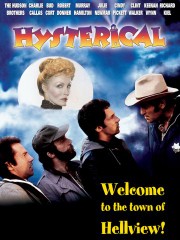 AUDIENCE SCORE
Critic Consensus: No consensus yet.
Movie Info
When a pulp-fiction author (William Hudson) buys a lighthouse in the hopes of having an ideal place to be creative, his plans are dashed by the vengeful ghost of a woman scorned. Her fury invokes the man who turned his back on her, and once he kills off the townspeople at her command, she changes them into zombies. In an attempt to revive the moribund comedy of this horror spoof, two cowardly "ghostbusters" come into the picture (Mark Hudson and Brett Hudson), but neither this duo nor their brother -- a trio also responsible for the script -- can animate a zombie film that is dead in the water.
more
Cast
News & Interviews for Hysterical
Critic Reviews for Hysterical
Audience Reviews for Hysterical
½
Long before the Wayans brothers dragged the horror spoof genre through the gutter with their Scary Movie series, The Hudson Brothers wrote and starred in this little gem that spoofs every horror movie from Jaws to The Exorcist. When a novelist retreats to sleepy little Hellview to recharge his writing batteries, he becomes immersed in a 100 year old mystery involving a haunted lighthouse, and the discovery of the long dead lighthouse keeper, Captain James Howdy. The townsfolk call in two inept...whoops, I mean intrepid adventurers, Dr. Paul Baton and Fritz, to investigate what it all means. When the corpse of Captain Howdy returns to life, he begins killing townspeople, turning them in to turtleneck wearing zombies who say only "What difference does it make?" It's all tied in to the spirit that inhabits the light in the lighthouse. Completely non-sensical, cheesy, and juevenille, it's also inexplicably entertaining. Set on the Oregon coast, the movie does contain a certain cool atmosphere that adds to the movies charm. A lot of well known character actors make the most of their small roles, including Murray Hamilton, spoofing his own role of the town mayor from Jaws. As usual, he refuses to close the beaches. Watch for John Larroquette in a small role as the worlds worst tour boat guide, Bob X. Cursion. Other genre character actors include Richard "Jaws" Kiel, Julie "Catwoman" Newmar, Franklyn Ajaye, and Cindy Pickett. Parodies of Dracula, Jaws, The Exorcist, Friday the 13th, Night Of The Living Dead, and countless others abound, culminating in a dancing zombie musical number. Not a gut busting laugh riot, but incredibly charming, and undeniably fun. I don't think the movie ever got a theatrical release. It's one of those movies I discovered long ago on cable, thinking I was the only one who ever saw it. Over the years I've met many others who have the same "Oh yeah, I remember that movie! I love that movie!" moment of recognition when I mention it. A cult movie if there ever was one.
RJ MacReady
Super Reviewer
Remember the Hudson Brothers? That wacky comedy team that follows in the footsteps of the Marx Bros? Don't worry, no on does.
Still, I loved it when I was a kid, especially "The Hop" scene. I would really love to see this one again.
Hysterical Quotes
Discussion Forum
Discuss Hysterical on our Movie forum!
News & Features