I Think We're Alone Now
(2008)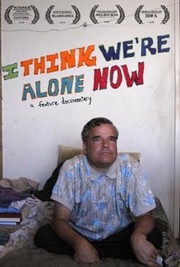 Movie Info
This documentary feature by director Sean Donnelly follows the adventures of two obsessed fans, 50 year old Asperger's sufferer Jeff Turner, and 35-year-old intersex person Kelly McCormick who claim to be in love with 80's teen-pop heartthrob Tiffany. With both humor and with sometimes heartbreaking sensitivity, Donnelly explores the lonely lives of these two people, classified by many as stalkers.
more
News & Interviews for I Think We're Alone Now
Critic Reviews for I Think We're Alone Now
Audience Reviews for I Think We're Alone Now
½
You have to feel for Tiffany, Her polite grace and accessibility has made her an easy target for the obsessive and delusional.
Randy Tippy
Super Reviewer
Interesting documentary about two people who are obsessed and in love with Tiffany. Jeff, who has actually been accused of stalking her, (and Alyssa Milano, though that's a different story) and Kelly, who is a transexual.
Having grown up with Tiffany in the 80's, I was interested to see this. However, she is not really in it as such, (only brief sections where she has been filmed meeting fans, or onstage - although interestingly, none of the footage includes her music, even the bits where she is singing, so I guess she did not give her permission for this).
It winds up more sad than anything else. Both Jeff and Kelly obviously have mental issues, and though you feel scared for Tiffany, you also feel some pity for the two of them, who obviously are not getting the help they need. Jeff honestly believes Tiffany is his best friend, and Kelly has delusions that Tiffany will fall in love with her.
I also feel very sad for Tiffany watching this and what her career has sunk down to! She actually did do a decent album back in 2000 in "Colour of Silence" - very different to her 80's teen pop and some actual meaning to the songs - yet she is still reduced to be defined by her debut 80's album and that ill advised Playboy appearance.
Discussion Forum
Discuss I Think We're Alone Now on our Movie forum!
News & Features