Idiot's Delight
(1939)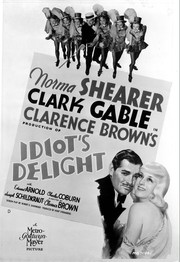 AUDIENCE SCORE
Critic Consensus: No consensus yet.
Idiot's Delight Trailers & Photos
Movie Info
Robert E. Sherwood's Pulitzer Prize-winning play Idiot's Delight starred Alfred Lunt and Lynn Fontanne on Broadway. Set in a lavish alpine hotel bordering an Italian air base, the story throws together several disparate people, each in his or her own way affected by the World War that threatens to erupt at a moment's notice. The only person who doesn't seem to have a political or economic stake in world affairs is Harry Van, a two-bit American entertainer who is stranded in the hotel with his travelling all-girl troupe, "Les Blondes." Harry is convinced that the alluring Irene, the foreign-accented "travelling companion" of munitions tycoon Achille Weber, is actually an American girl with whom he'd had a one-night stand years earlier, but Irene laughs off his insinuations. Eventually, Irene turns to Harry for comfort when Weber proves too disgustingly warmongering for her tastes. When war breaks out and the hotel is targeted for bombing, Harry makes sure that everyone gets to safety; he himself stays behind with Irene, with whom he has fallen in love. The two sing a hymn as the hotel is blown to oblivion. When Idiot's Delight was filmed in 1939, Norma Shearer did her best Lynn Fontanne imitation as Irene, while Clark Gable remained Clark Gable in his interpretation of Harry Van (his song-and-dance rendition of "Puttin' on the Ritz" is a classic of sneering insouciance). The film underwent an extensive "MGM-izing": while the pre-European affair between Harry and Irene is never dramatized in the play, the film shows Harry and Irene commiserating in a long prologue set in a seedy vaudeville house--and, in keeping with censorship restrictions, it is made abundantly clear that, while Harry befriends Irene, he does not sleep with her. The munitions manufacturer, here played by Edward Arnold, is depicted as an aberration, and not representative of "honest" business moguls (many of whom were close personal chums of MGM head Louis B. Mayer). And, while the ending of the play does not tell us whether or not Harry and Irene survive the bombing, the film permits the lovers a sun-streamed happy ending.
more
Cast
News & Interviews for Idiot's Delight
Critic Reviews for Idiot's Delight
Audience Reviews for Idiot's Delight
Idiot's Delight (1939)

This is kind of a weird movie for Clark Gable. You don't often see Gable doing soft shoe numbers, singing, dancing, and playing in vaudeville gags, but here he is trying to make a living on the stage. Harry Van (Gable) is trying to stay in the business, going from one partner and routine to the other. He isn't all that successful, but you know that he'll keep at it and eventually do good.

He meets up with a small-town country girl, and dreamer, Irene Fellara (Norma Shearer) and they sort of hit it off. Although the relationship is kind of doomed from the start, Harry can't seem to forget Irene.

Later, Harry is able to get a small troop of dancing girls put together and they're touring Europe and he bumps into Irene in a resort in the Alps just before the Nazis invade the country. Only this time Irene is acting like some over-the-top, campy, Russian aristocrat who is the mistress to a rich industrialist, Archille Weber (Edward Arnold).

This is Harry's last chance and you know that he's going to try to take it, as well as Irene. But, war is on the horizon. This is the beginning of the war movies of the 40s and everyone is gearing up for the fight to come.
Rick Rudge
½
Norma Shearer's performance, IMO will be the key to one's enjoyment of this film..because in order to do so, you would have to accept her over-the-top (should I say - hammy) performance as a faux russian expatriate who ( supposedly ) escaped the "bolshevekii" and winds up the wife of weapons magnate Achille Weber (Edward Arnold) on the eve of WWII.
Although Shearer's husband Irving Thalberg had died 2 years prior to this film's release, I'm sure she still had the clout at MGM to have gotten away with this kind of performance. Sure IDIOT'S DELIGHT is supposed to be a comedy...but it makes me wonder if someone thought to tell Shearer to tone it down a bit. Probably not.

Shearer stars opposite Clark Gable here, who plays the cocky but less-than-talented vaudeville performer Harry Van, who will take most any stage job that comes his way. When he isn't on stage...you can find him hawking encyclopedias door-to-door. It is while he acts as an assistant to a drunken mind-reader that Harry meets Irene Fellara (Shearer), a high wire acrobat. Harry and Irene have a short romantic fling but decide to amicably part ways when their respective acts take them in opposite directions.

Years later, Harry is now travelling as part of a song and dance act and finds himself stranded at an alpine resort in a nameless european country whose borders are closed suddenly by the military. While at the resort, Harry meets Weber, the weapons magnate and his sexy russian wife, Irena. Harry is almost certain that Irena is not the person she claims to be. She sure looks exactly like the acrobat he once had that fling with years ago...

IDIOT'S DELIGHT is billed as a musical/comedy but it's punctuated with dark undertones. It is based on a pulitzer-prize winning play by Robert E. Sherwood (THE PETRIFIED FOREST). I wonder how much of the play shows through in the film - which has moments when it's anti-war sentiments comes to the fore. Burgess Meredith plays a pacifist here and he seemed to have taken his acting cue from Shearer's performance...both hammy indeed, I must say.

Clark Gable is his usual self here and succeeds despite the short-comings of the film. He does a short song and dance number that apparently Gable was very nervous to perform... the only time one will actually see him sing and dance in a film. IDIOT'S DELIGHT might be worth watching just for that moment alone...

TCM actually showed two endings to this. One a US release version and the other an INTERNATIONAL release version. The latter may have been apropos in 1939 but really comes off as a bit too much like propaganda now. I just thought the US version worked better given the tone of the rest of the film...

Norma Shearer, IMO will do a better job playing a foreigner, this time in a dramatic role in her 1940 film, ESCAPE.

5.5
bernard anselmo
Idiot's Delight Quotes
Harry Van: Oh, you like my electrical personality, hmm?
Irene Fellara: No, nothing as obvious as that.
Discussion Forum
Discuss Idiot's Delight on our Movie forum!
News & Features