If It's Tuesday, This Must Be Belgium
(1969)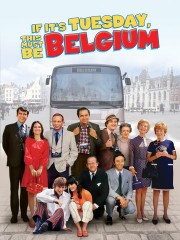 AUDIENCE SCORE
Critic Consensus: No consensus yet.
Movie Info
A mid-1960s TV documentary special (and a New Yorker cartoon before that) was the inspiration for If It's Tuesday, This Must Be Belgium. The film is a likeable satire of "packaged" European tours, where the nonplused tourists are expected to rush from one landmark to another in a breathless 18 days. Ian McShane stars as the amorous tour guide, with Suzanne Pleshette as the American department store buyer he falls for; their romance ends when Pleshette decides that the supposedly worldly McShane is too immature for her. An all-star cast, including Murray Hamilton, Peggy Cass, Pamela Britton, Marty Ingels, John Cassavetes and Vittorio De Sica, pops up in comic cameo roles. Our favorite bit: an American and German tourist, simultaneously regaling their respective wives with wildly divergent accounts of the same wartime confrontation. If It's Tuesday, This Must Be Belgium was reworked in 1987 as a made-for-TV movie, cleverly title If It's Tuesday, It Still Must be Belgium.
more
Watch it now
Cast
News & Interviews for If It's Tuesday, This Must Be Belgium
Critic Reviews for If It's Tuesday, This Must Be Belgium
Audience Reviews for If It's Tuesday, This Must Be Belgium
If its got Suzanne Pleshette it really doesn't need much more
½
Unsuspecting tourists encounter enriching events abroad by tour bus. Thought provoking comedy of Americans visiting Europe plus romantic tales thrown in. Pragmatic Americans take in the sights of London and the continent showing how two weeks on a bus could make for a memorable ride though initially disappointing.

It's amusing the further you go along for the ride and worth the ride.

SEE the entire film here:

http://www.youtube.com/watch?v=eRmO1BXDONI



Some beg to go home early, claiming "Americans go home" the best three words in the language. Another said, "whoever wrote Home Sweet Home, must have taken this tour". Or, "I feel like I was born on this bus" and then "I feel like I died on it". But as the tour continues, each has a adventure they will not forget (for better or worse).

[img]http://ts2.mm.bing.net/th?id=HN.608043261816998601&pid=15.1[/img] The bus tour guide

A special treat for those interested in clothing of the day, mannerisms, the spoken slang of the day. The film also has cameo appearances by Senta Berger, John Cassavetes, Joan Collins, Vittorio De Sica, Anita Ekberg, Ben Gazzara, Virna Lisi, Elsa Martinelli, Catherine Spaak and Robert Vaughn.

[img]http://ts4.mm.bing.net/th?id=HN.607987989883848183&pid=15.1[/img]

"Charlie (Ian McShane) is an English tour guide who takes groups of Americans on whirlwind 18-day sightseeing tours of Europe. Among his various clients on his latest trip are Samantha (Suzanne Pleshette) with whom he wants to have an affair; a man who desires a pair of custom-made Italian shoes from a certain cobbler in Rome; and a vet who is reliving his World War II experiences."---wikipedia


[img]http://ts1.mm.bing.net/th?id=HN.608045512378483660&pid=15.1[/img]

REVIEWS:

1 70%
Quirky, but enjoyable.


2 Loved the movie. It was really fun to watch after getting back from a trip in Europe.


[img]http://i590.photobucket.com/albums/ss343/fergusmcphail/Tuesday%20Belgium/Belgium2.jpg[/img] The comedy romance begins



NOTEs;

1 Locations where the film was shot include Rome and Venice, Italy; Brussels and Bastogne, Belgium; the Netherlands; Switzerland; and London, England. The film poster shows the cast on the normally pedestrianized Grote Markt square of Antwerp, Belgium, posing for a typical souvenir photo in front of the city hall, with their tour bus obstructing the view of the Brabo fountain which is normally a favorite photo-op with other tourists.

2 Folk singer Donovan makes a guest appearance in the film singing Lord of the Reedy River, which he had also written. He also wrote the film's title song, performed by J.P. Rags.

3 Patricia Routledge as Mrs. Featherstone (tour guide) was later better known in Keeping Up Appearances as Mrs. Boquet, an Enlish sitcom.

4 The title, also used by a 1965 documentary on CBS television that filmed one such tour, was taken from a New Yorker cartoon by Leonard Dove.

[img]http://ts1.mm.bing.net/th?id=HN.607999964256274396&pid=15.1[/img]

Suzanne Pleshette as Samantha Perkins
Ian McShane as Charlie Cartwright
Mildred Natwick as Jenny Grant
Murray Hamilton as Fred Ferguson
Sandy Baron as John Marino
Michael Constantine as Jack Harmon
Norman Fell as Harve Blakely
Peggy Cass as Edna Ferguson
Marty Ingels as Bert Greenfield
Pamela Britton as Freda
Reva Rose as Irma Blakely
Aubrey Morris as Harry Dix
Hilary Thompson as Shelly Ferguson (as Hilarie Thompson)
Luke Halpin as Bo
Mario Carotenuto as Giuseppe
Patricia Routledge as Mrs. Featherstone


Directed by Mel Stuart
Produced by Stan Margulies & David L. Wolper

Written by David Shaw

Music by Walter Scharf

Cinematography Vilis Lapenieks

Editing by David Saxon

Distributed by United Artists

Release dates April 24, 1969 (1969-04-24)

Running time 99 min


Country United States
Language English

[img]http://iv1.lisimg.com/image/2240740/600full-if-it%27s-tuesday%2C-it-still-must-be-belgium-poster.jpg[/img]
monsieur rick
Discussion Forum
Discuss If It's Tuesday, This Must Be Belgium on our Movie forum!
News & Features