In a Glass Cage (Tras el cristal)
(1989)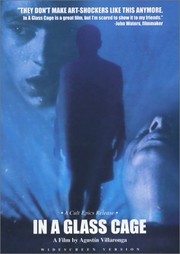 In a Glass Cage (Tras el cristal) Trailers & Photos
Movie Info
Stylistically compelling, morally ambiguous, and profoundly unsettling, this Spanish psychodrama from writer-director Agustin Villaronga stands beside Pier Paolo Pasolini's Salo as one of cinema's most unflinching depictions of human depravity. The story opens in post-WWII Catalonia as former Nazi death camp "doctor" Klaus (Gunter Meisner) consummates his torture-murder of a young man by hurling himself from the roof of his house; this act, motivated either by a sudden attack of conscience or by some form of sexual mania, leaves him paralyzed from the neck down and unable to breathe on his own. We soon find Klaus lying prone in an archaic iron lung, attended by his stern wife Griselda (Marisa Paredes) and young daughter Rena (Gisela Echevarria). When they become unable (or, in his wife's case, unwilling) to look after him, Griselda hires handsome young nurse Angelo (David Sust), unaware that the young man is one of Klaus' former victims, who has maintained a detailed dossier on the "doctor" and his countless unspeakable atrocities. Thus begins a perverse and surreal manipulation of master/servant roles between the immobile Klaus and his equally demented attendant, as the young man attempts to recreate the nightmare world of the camps, even procuring more young victims for his former tormentor's amusement. Though it could be asserted that the stylistically accomplished Villaronga has made a passionate artistic statement about mankind's capacity for unspeakable atrocities, his film may be construed as being one of those horrors in itself. At any rate, Tras el Cristal is not for the faint of heart or weak of stomach. ~ Cavett Binion, Rovi
more
Cast
News & Interviews for In a Glass Cage (Tras el cristal)
Critic Reviews for In a Glass Cage (Tras el cristal)
Audience Reviews for In a Glass Cage (Tras el cristal)
½
I'm not sure what to write about this film except that it will most certainly not be for everyone. This very dark and disturbing film is not so much a horror film as it is an examination of the psychological within the evil cruelty of humanity. This is not an easy-going film experience, but there are some potent ideas expressed. And, there can be no denying the quality of the production. Dark, disturbing, uncomfortable and horrific -- Villaronga has made a film you will not be able to forget.
Matty Stanfield
½
Harrowing, disturbing study is difficult to connect with since almost everybody in it is horrendously villainous.
Discussion Forum
Discuss In a Glass Cage (Tras el cristal) on our Movie forum!
News & Features