In This Our Life
(1942)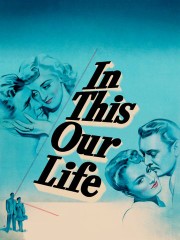 AUDIENCE SCORE
Critic Consensus: No consensus yet.
Movie Info
In this film, Bette Davis stars as Stanley Timberlake. Spoiled rotten, the wealthy Stanley runs roughshod over her milquetoast father, even as she twists her wealthy uncle around her little finger. The limit comes when Stanley, driving in excess of the speed limit, strikes and kills a mother and child.
more
Cast
News & Interviews for In This Our Life
Critic Reviews for In This Our Life
Audience Reviews for In This Our Life
William Dunmyer
Super Reviewer
Just by reading the synopsis on here, you can tell this movie involves a very complicated love story. I think it's a bit too complicated. It's an okay movie, but it's not great.
½
"in this our life" is bette davis' cooperation with director john huston, backsetted in the old south reputed for its insolent southern belle while racial bigotry still exists then. olivia de havilland's casted as davis' virtuous sister with the capacity and benevolence to make the best of everything, even the men disposed by davis. it might be a reminder of de havilland's miss goody goody image in "gone with the wind" but this time her counterpart devoids the glamourous polish and de havilland herself begins to show some hardened edge rather than her sweet pie lad image alongside errol flynn in swashbuckler pieces.

davis is the wildly arbitrary sister of the reputed timberlake family with an uncle who has a drolling incestuous crush on her. with the uncle's financial backup,davis struts around, stealing her sister's beau then destroys him willfully, eventually her irresponsiblity deteriorates into framing a diligent black janitor after she accidentally runs over a woman. davis plays that kind of malicious bitch who could only be gratified by someone else's unhappiness, and once she obtains and devours something, she tramps it and tosses aside, absolutely guiltless and unwilling to take the blame with a pretentious victimized facade.

unevitably "in this our life" is melodramatic with the archetypes of selfless gentle woman like de havilland and bitch-perfect bette davis, but at least it has enough relish to make a watchable picture, and john huston's noirish strokes add gritty seasoning to it.

like "jezebel" and "little foxes", davis gets into the skin of another abrasive southern stereotype, malevolent egoist who is vain enough to disregard the welfare of others. "gone with the wind" glamour star vivien leigh also thrives in such southern belle role, such as her scarlet o'hara and "streetcar named desire", but the main difference between leigh's and davis' interpretations would be the relentless brass and spunk. leigh's performing style is more feminine and laid-back in the niche of shakespian thespian while miss davis shamelessly smirks and growls. maybe that's what defines davis' feminist poise, watching a woman who doesn't hesitate to galope full throttle being a bitch even she appears in a light of coquettish wardrobe by orry-kelly.
Veronique Kwak
Super Reviewer
In This Our Life Quotes
Stanley Timberlake: Why don't you go back to Roy, where you belong? She's just FOOL enough to have you!
Asa Timberlake: The weak always have the strong to protect them. But the strong must protect themselves.
Stanley Timberlake: I couldn't help it. I never could help anything.
Discussion Forum
Discuss In This Our Life on our Movie forum!
News & Features