InAlienable
(2009)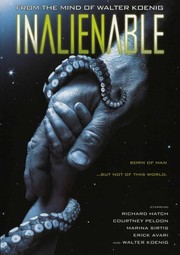 AUDIENCE SCORE
Critic Consensus: No consensus yet.
Movie Info
A thought-provoking sci-fi drama headed up by a stellar cast, InAlienable tells the tale of a successful researcher who gives birth to an extraterrestrial child, and wages a passionate fight to defend his offspring from society and government scientists. On the heels of a devastating family tragedy, Dr. Eric Norris (Richard Hatch) becomes infected with an alien parasite. When the gestation period is over, Dr. Norris conceives a half-human, half-alien hybrid baby. In the aftermath of this unusual development, the man who devoted his life to science finds his compassion reawakened, and vows to protect his child at all costs. Walter Koenig, Courtney Peldon, Marina Sirtis, and Erick Avari co-star.
more
Cast
News & Interviews for InAlienable
Critic Reviews for InAlienable
There are no critic reviews yet for InAlienable. Keep checking Rotten Tomatoes for updates!
Audience Reviews for InAlienable
John Wagner
Meet Inalienable, a treasure chest of nerd fanboy gold. InAlienable is the story of a guilt-ridden scientist Richard Hatch (Battlestar Galactica icon), who lost his bitch wife and adorable son in an auto-accident that was kinda his fault. Many years later, he grieves while ignoring the advances of fellow big-tittied blonde scientist Courtney Peldon (sorry, she engages in pretty sexual scenes, but never shows anything) and continues to get bullied by overall a-hole boss Walter Koenig (Star Trek icon). Things change when an alien parasite inhabits his body and produces a child with him, which he births. The result is a half alien/half human/half squid hybrid that the government immediately steals away and uses for experimentation. The rest of the movie becomes a Kramer vs. Kramer trail drama as Hatch fights to get back his child. Other notable appearances include Alan Ruck (some Star Trek, but most notably Ferris Bueller's Day Off), Marina Sirtis (Star Trek: Next Generation), Patricia Tallman (Night of the Living Dead remake) and others. The film was written by Koenig himself and directed by Robert Dyke (who most notably gave us the campy sci-fi/horror film Moontrap, which starred Koenig). Unfortunately, Dyke's direction hasn't improved over the years, and Koenig should probably stick to what he knows best. InAlienable has great intensions and manages to be fun in SOME spots, but overall, this film is too campy and unintentionally hilarious to be taken seriously, which is what these people what you to do. Big-time dramatic scenes filled with anguish, tears, and sorrow that seems Oscar-worthy at first, but given the material and near lack of budget (probably because they spent it pulling together such an eccentric cast), these scenes look just downright ridiculous. There are some decent effects here and there, and a good performance by Hatch, but this film is a CLEAR showcase of Koenig's lack of talent when it comes to scriptwriting. The most funny part would be an outtake at the end of the credits. Bummer.
Discussion Forum
Discuss InAlienable on our Movie forum!
News & Features