Inside Hana's Suitcase
(2012)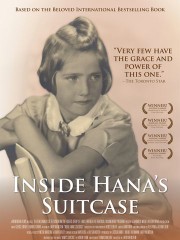 Movie Info
The delivery of a battered suitcase to Fumiko Ishioka at the Tokyo Holocaust Museum begins the true-life mystery that became the subject of Karen Levine's best-selling book Hana's Suitcase. The suitcase came from the Auschwitz Museum and had Hana Brady's name painted on it. Larry Weinstein's masterful film follows Fumiko's search to discover the details of Hana's life, which leads to the discovery of her brother George in Toronto. As small children they had been sent to Thereisenstadt for being Jewish after the Nazis invaded Czechoslovakia in 1939. A superb musical score by Alexina Louie and Alex Pauk, coupled with dramatic reenactments stunningly shot by Horst Zeidler, catches us by the heart to invoke the tragedy of the times. The voices of children from Japan, Canada, and the Czech Republic telling Hana's story are woven around the drama, along with George's memories and Fumiko's quest, to create a film of astonishing power and hope. -- (C) Official Site
more
News & Interviews for Inside Hana's Suitcase
Critic Reviews for Inside Hana's Suitcase
Audience Reviews for Inside Hana's Suitcase
I saw this with Portia, a friend of mine, at the Victoria Film Festival a last year and have been itching to let people know about this fantastic film.

The story of Hana Brady is one that transcends most other documentaries I've seen based on its simplicity and classic story-telling style. The stories of Hana, killed in Auschwitz as a girl, and her brother George are intertwined with that of Fumiko Ishioka, a Japanese school teacher who comes to possess Hana's suitcase. Driven by curiosity, she not only discovers Hana's fate, but also that of George's, who lives in Toronto. He visits her and her class, The Small Wings, to see and touch one of the most precious of Hana's belongings. This blending of past and present is captured in an interesting way, combining both candid interviews with fictional flashbacks.

George's honesty and Fumiko's tireless drive are really captured well, as well as giving the audience an unprecedented glimpse into the life of a victim of the Nazis. From the magic tricks their father used to perform to the bottle full of a young girl's frustrations buried in the back yard, the film is incredibly intimate. Yet at the same time, it takes a global scale when Hana's story travels beyond the Brady's home in the Czech Republic to Japan to Canada and all across Europe. It's a tragic story, to be sure, but it's full of hope and loving memory. The music, I felt, really reflected all those tones, though it could be a bit overwhelming in certain scenes.

The message comes through loud and clear: this must never happen again. Because Hana's story is only one of millions.

What really made this film come alive for me was that after the screening, Larry Weinstein, the director, introduced us to George and his daughter, who had attended the premiere. I must admit, seeing him there after being given such a penetrating look into his suffering and his family, I broke down in tears, like many others. It was a complex mix of deep respect, gratitude, and pride in his courage. And it's a feeling I won't forget. I can only hope that Hana's and George's story will continue to touch lives as it has mine.

EDIT: A comment from Mr. Weinstein himself! "What a nice review... thank you. Very few people have seen this film, so the audience reaction in Victoria was very meaningful to me (as was the documentary award that it won there). And so your comments are very much appreciated. LW"
½
"Inside Hana's Suitcase" is more than your usual Holocaust documentary. It is much more. The filmmaker has cleverly interspersed cinematic elements in the story of the documentary in which actors portray elements of the victim's story. Through the efforts of a highly motivated educator / muesum director in Japan who receives a suitcase on which is written the name of one victim of Auschwitz, she (and we) discover Hana Brady's family's remarkable story. This is a film which should become a part of many school / college / synagogue libraries. In many ways it enhances the message of the fine documentary "Paper Clips." Bravo!
Discussion Forum
Discuss Inside Hana's Suitcase on our Movie forum!
News & Features