Invisible Invaders
(1959)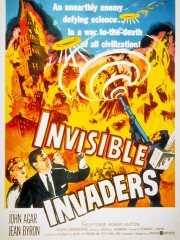 AUDIENCE SCORE
Critic Consensus: No consensus yet.
Tickets & Showtimes
Movie Info
Monstrous moon goons plot to take over the Earth in this silly sci-fi/horror drivel. The formless aliens (whose invisibility was no doubt a cost-cutting measure) enact their insidious plans by taking over the corpses of the recently dead -- a premise bearing a more than passing resemblance to Ed Wood's legendary Plan Nine from Outer Space. Leading the zombie attack is John Carradine as an undead scientist; a hammy John Agar steps in to save the day by inventing an ultrasonic sound device to repel the aliens. Though not as delightfully awful as Wood's anti-classic, this is a definite clunker, padded with stock footage, littered with horrendous acting and even worse attempts at special effects.
more
Cast
News & Interviews for Invisible Invaders
Critic Reviews for Invisible Invaders
All Critics (2) | Fresh (1) | Rotten (1) | DVD (4)

Ozus' World Movie Reviews

Audience Reviews for Invisible Invaders
Kevin Robbins
There are two options when you walk into Invisible Invaders: Either straight up terrible, or awesome in its unintentional absurdity. This movie falls into the latter.
Invisible Invaders (Edward L. Cahn, 1959)

Nauseating anti-nuke propaganda that would have just been mind-numbingly stupid before Cahn dug into his fifty-cent special effects budget in the last fifteen minutes of the movie. Then it becomes terrifying. I can just imagine the announcer on the trailer: "You truly will not believe how crappy the special effects in the movie are!" A quarter admission in the fifties got you two flicks, a newsreel, some cartoons, and maybe a two-reeler if it was a slow week. If one of those movies was Invisible Invaders, you still would've been justified in demanding your money back. Wooden acting, flat-out bad camerawork, and just wait till you see those effects. On second thought, I hope you never do. 1/2
Discussion Forum
Discuss Invisible Invaders on our Movie forum!
News & Features