Irma Vep
(1996)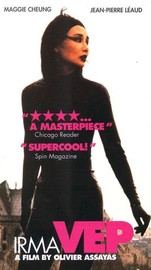 Tickets & Showtimes
Movie Info
A has-been French filmmaker makes a desperate comeback attempt with an homage to "Les Vampires." Maggie plays a cat-like jewel thief and discovers that the director is a laughing stock. Becoming totally immersed in her part, Maggie starts sneaking about her hotel dressed in a black cat-suit.
more
Watch it now
Cast
News & Interviews for Irma Vep
Critic Reviews for Irma Vep
Audience Reviews for Irma Vep
A director tries to remake Les Vampires.
I'm not really sure what I saw. On the one hand, I see some clever satire about French film here, especially with the interviewer complaining about intellectual film in an intellectual film, Rene's mumblingly intense focus on process, and the costume designer using a bondage mask. On the other hand, I think one would have to know the history behind Les Vampires in order to be in on the joke, and I'm not sure what to make of the romance between Maggie and Zoe. And what is going one with Maggie Cheung playing herself? Once again, I feel like there's a reason for this choice, but it isn't communicated with any clarity.
Overall, I left this film confused and not in a good way.
Jim Hunter
Super Reviewer
Burned out new wave director, played by one-time Truffaut alter ego Jean-Pierre Léaud, decides to remake Louis Feuillade's french melodrama, Les Vampires, with the Hong Kong starlet Maggie Cheung as the black-latex-clad leader of a gang of jewel thieves.

Amusing behind-the-scenes look at the French film industry that's critical of how it's funded, how it looks upon its' cinematic legacy and how its' complancency, seriousness, self-importance, fighting and jealousies crush any real creativity. Maggie Cheung, who in the film can't understand the french language, is great to watch as she's allowed to be herself and put her own personality into the film, improvising and reacting with surprise and incomprehension to the insanity around her.

El Hombre Invisible
Super Reviewer
Discussion Forum
Discuss Irma Vep on our Movie forum!
News & Features