The Item
(1999)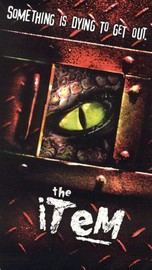 Tickets & Showtimes
The Item Trailers & Photos
Movie Info
Not for the squeamish, this violent, bloody film centers on four criminals paid to collect and guard a 40-pound telepathic worm. Things get out of hand when the worm is accidentally defrosted and awakens. Slowly the worm enters the minds of each of the criminals, forcing them into unspeakable acts.
more
Cast
News & Interviews for The Item
Critic Reviews for The Item
Audience Reviews for The Item
½
One of the strangest "horror" films I've ever seen. Incredibly cheesy and low budget (not in a good way), but it intrigues me at the same time. I have to give it props for its originality and goriness.
cody phillips
RT's description of "The Item" leads one to believe that there is a sliver of a cheesy good B-movie hidden within this film; that would be a lie.
The Item in question, is a package that four friends must babysit for 24 hours. The Item is locked in a large metal case and the four have been instructed NOT to open it; they do. After doing this, they unleash a demonic creature with a thirst for blood and they will need to work together in order to survive. Can the friends stave off execution at the hands of this vicious beast? Or will they fall to the hellish abomination?
To be honest, the above paragraph is a big fat lie. "The Item" is actually a slug-like creature with a penis for a tail. The slug kills people by talking to them softly and telling them that they have no friends. Each person, distraught by what they have been told, commits suicide.
At the end, the slug creature has sex with the surviving female.
A Z-grade, low budget exploitation movie that is painfully boring, and poorly acted.
Donald Brush
Discussion Forum
Discuss The Item on our Movie forum!
News & Features