Jackpot
(2001)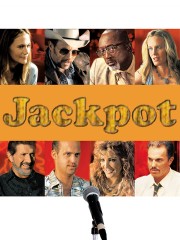 Jackpot Trailers & Photos
Movie Info
Set 100 miles south of the setting of the Polish brothers' first feature, Twin Falls Idaho, Jackpot tells the story of Sunny Holiday Jon Gries, a down-on-his-luck karaoke dweller who has hopes of becoming a country singer. He has abandoned his feisty wife Bobbi (Daryl Hannah) and young daughter to set off on a nine-month road odyssey with his manager Lester Irving (Garrett Morris), in an effort to collect cash at local karaoke gigs. Lester grooms Sunny by choosing what songs he will do, keeping up with what the judges are like, and negotiating with competitors like Sammy Bones (Mac Davis), another traveling hopeful. On his road journey, he encounters several women, including Janice (Peggy Lipton), a club waitress, and Cheryl (Crystal Bernard), whom he takes home after she has an accident in a restroom, only to find himself being enticed by her underage daughter Tangerine (Camellia Clouse). The road trip comes to a stop, however, when Sunny is pulled over by police who claim that his vehicle is stolen and that Bobbi has reported it. Sunny then seeks refuge with brother Tracy (Anthony Edwards) while he decides his next move. Jackpot is the first released film to be shot with the 24P HDTV camera, which was then blown up to Cinemascope 35 mm format.
more
Cast
News & Interviews for Jackpot
Critic Reviews for Jackpot
Audience Reviews for Jackpot
½
The filmmakers throw in an extended flatulence routine and enough graphic references to female anatomy to make "The Vagina Monologues" blush.
½
Now that I've seen it, I can rank it as my least favorite Polish brothers film. Though, I have to say, there is some pretty good dialogue sprinkled throughout the film. And, I had to lauch at Mark Polish showing up towards the end singing 'Sad Eyes' in a karaoke bar.

Overall, a strange, slow, colorful little story about a couple of guys on the road who don't quite manage to escape reality in their pursuit of a misguided dream. It's what would happen if, regardless of the consequences, you actually acted on that hypothetical question people like to banter about 'If you could do anything you wanted with your life, what would it be?'
Discussion Forum
Discuss Jackpot on our Movie forum!
News & Features