Jaws
(1975)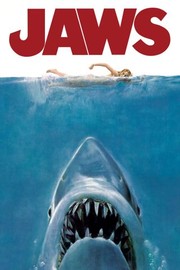 TOMATOMETER
AUDIENCE SCORE
Critic Consensus: Compelling, well-crafted storytelling and a judicious sense of terror ensure Steven Spielberg's Jaws has remained a benchmark in the art of delivering modern blockbuster thrills.
Tickets & Showtimes
Jaws Trailers & Photos
Movie Info
Based on Peter Benchley's best-selling novel, Steven Spielberg's 1975 shark saga set the standard for the New Hollywood popcorn blockbuster while frightening millions of moviegoers out of the water. One early summer night on fictional Atlantic resort Amity Island, Chrissie decides to take a moonlight skinny dip while her friends party on the beach. Yanked suddenly below the ocean surface, she never returns. When pieces of her wash ashore, Police Chief Brody (Roy Scheider) suspects the worst, but Mayor Vaughn (Murray Hamilton), mindful of the lucrative tourist trade and the approaching July 4th holiday, refuses to put the island on a business-killing shark alert. After the shark dines on a few more victims, the Mayor orders the local fishermen to catch the culprit. Satisfied with the shark they find, the greedy Mayor reopens the beaches, despite the warning from visiting ichthyologist Hooper (Richard Dreyfuss) that the attacks were probably caused by a far more formidable Great White. One more fatality later, Brody and Hooper join forces with flinty old salt Quint (Robert Shaw), the only local fisherman willing to take on a Great White--especially since the price is right. The three ride off on Quint's boat "The Orca," soon coming face to teeth with the enemy. ~ Lucia Bozzola, Rovi
more
Cast
News & Interviews for Jaws
Critic Reviews for Jaws
Audience Reviews for Jaws
The classic thriller never gets old, handled superbly well in the open waters by Spielberg and carried with charisma by its lead actors. 'Jaws' will never fail to entertain, and still stands as one of the greatest thrillers of all time.
"Jaws" is considered one of the greatest movies of all time. Number 56 on AFI's top 100, number 2 on their list of Top Thrills, and a few years ago Bravo ran a Top 100 Scary movies of All Time with "Jaws" as number 1. Hell, can you even get in a pool without doing the music when you sneak up on someone? This is a very iconic movie that's perfect as a good Halloween time flick for a few jumps. The movie is about a great white shark that terrorizes a small Ocean side town. Three guys then set out to kill the shark. Chief Brody(Roy Scheider), Hooper(Richard Dreyfuss), and local fisherman Quint(Robert Shaw) lead the way and are all three fantastic characters lead by great performances. This is Spielberg first true Blockbuster(and considered Hollywood's first Summer Blockbuster), and really sets the stage for the great work he would continue to make for the next 30+ years. I recently bought this on Blu Ray as it was completely remastered and restored and had read how this is the absolute best this has ever look. It looks fantastic and like it was made last week, not 37 years ago. Holds up amazingly well, and a movie that should be passed on generation to generation. Can't wait for Grant to be old enough to enjoy this with me and scare him every time we go swimming.
Jaws Quotes
Quint: It proves that you wealthy college boys don't have the education enough to admit you're wrong.
Chief Martin Brody: Smile, you son of a bitch.
Chief Martin Brody: You're gonna need a bigger boat!
Chief Martin Brody: Smile, you son of a bitch.
Discussion Forum
Discuss Jaws on our Movie forum!
News & Features