Judge Dredd
(1995)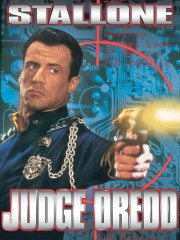 TOMATOMETER
AUDIENCE SCORE
Critic Consensus: Judge Dredd wants to be both a legitimate violent action flick and a parody of one, but director Danny Cannon fails to find the necessary balance to make it work.
Judge Dredd Trailers & Photos
Movie Info
This action-filled sci-fi spectacle is set in a grim, futuristic world in which authoritarianism is the only way left to ensure democracy. The tale, based on a popular British comic book character, is set in the 22nd century after most of the Earth has become an uninhabitable desert wasteland. In North America, all of the people live in one of three giant cities. These cities are overpopulated and teetering on the brink of anarchy. Trying to maintain some semblance of order are the judges, lawmen riding air bikes, who mete out swift, and frequently fatal justice. The premiere judge of seething Mega-City, built atop the ruins of New York, is Dredd. His daily crime-busting routine is upset one day when the nefarious Rico breaks out of the high-security Aspen Penal Colony and returns to get revenge on the one who ratted on him; he also wants to make Mega-City an even more violent place. Upon his arrival, Rico immediately begins working to frame Dredd. He succeeds and the judge is imprisoned. Fortunately, the hero escapes and a spectacular and exciting battle between the judge and the evil Rico ensues.
more
Cast
News & Interviews for Judge Dredd
Critic Reviews for Judge Dredd
Audience Reviews for Judge Dredd
½
Terribly acted. The script was mindlessly drafted. There's little of note in this film other than how "m'eh" it was.
silly and not quite consistent with the source material, but a ton of fun none the less. ive seen this film many times and i always enjoy it.
Judge Dredd Quotes
Judge Dredd: I never broke the Law! I am the law!
Judge Dredd: You killed innocent people.
Rico: The means to an end.
Judge Dredd: You started a massacre!
Rico: I caused a revolution!
Judge Dredd: YOU BETRAYED THE LAW!
Rico: LLLLAAAAAAAAAAAWWWWWW?
Fergie Herman Ferguson: If you hadn't judged me, I wouldn't be out here in the first place. I think you should apologize. I deserve it.
Judge Dredd: The law never apologizes
Fergie Herman Ferguson: That's just it. You're not the law anymore. Now apologize!
Judge Fargo: The blind lady.
Judge Dredd: Who is she?
Judge Fargo: Justice, before your time. We should have never taken it from her hands.
Discussion Forum
Discuss Judge Dredd on our Movie forum!
News & Features