Killer Klowns from Outer Space
(1988)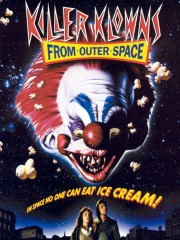 Tickets & Showtimes
Killer Klowns from Outer Space Trailers & Photos
Movie Info
This low-budget cult classic horror spoof has one of the great movie titles of all time. Mike (Grant Cramer) and his sweetheart, Debbie (Suzanne Snyder), are smooching on lover's lane when they see what appears to be a meteorite crashing over the horizon. They loosen their liplock long enough to investigate and find a curious circus tent. There they discover malevolent clowns who stop their victims with popcorn-shooting guns and acid-drenched pies in order to feast on human blood. The unfortunates are then entombed into inescapable cotton-candy cocoons. Officer Dave Hanson (John Allen Nelson) is called to investigate with help from Officer Mooney (John Vernon). For those viewers who already think clowns are a little creepy to begin with, this one will push them over the edge.
more
Cast
News & Interviews for Killer Klowns from Outer Space
Critic Reviews for Killer Klowns from Outer Space
Audience Reviews for Killer Klowns from Outer Space
½
Much more entertaining than I expected. I'd heard so many strange comments about this one, I finally had to check it out. Glad I did. These clowns are pretty damn scary, for real, and even if this falls in the Below "B" category, it's worth watching.
½
Hey look, it's Christopher Titus! If you rent a movie called Killer Klowns from Outer Space, you deserve exactly what's coming to you. If you don't like stupid movies, stay away from this one. I for one, actually DO like stupid movies though, and this one is a lot of fun. It's anyone's guess why an aggressive race of aliens have landed on the one planet where there form (as well as every element of thier culture) has its own independant relevance. Fear the cotton candy, my friends!
Killer Klowns from Outer Space Quotes
Officer Curtis Mooney: I don't know who you are... But before this night is over... you're gonna be begging for mercy.
Slug: What are you in for?
Farmer Gene Green: What in tarnation is going on?
Farmer Gene Green: I'll tear this thing apart with my bear hands!!
Officer Curtis Mooney: They wanna play games? Their messing with the wrong guy.
Discussion Forum
Discuss Killer Klowns from Outer Space on our Movie forum!
News & Features