Knights
(1993)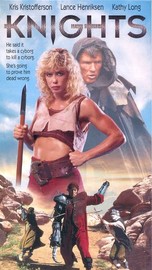 AUDIENCE SCORE
Critic Consensus: No consensus yet.
Movie Info
The venerable character actor Lance Henriksen plays an archetypically Machiavellian leader of bad cyborgs in this sci-fi action drama. Country-western staple Kris Kristofferson co-stars as Gabriel, a good cyborg who teams up with a sexy kick-boxer named Nia (Kathy Long) to fight the robots and their evil leader. Monument Valley, Utah, doubles as the film's dystopic, Mad Max-style wasteland.
more
Cast
News & Interviews for Knights
Critic Reviews for Knights
Audience Reviews for Knights
This is more incredible sci-fi with amazing martial arts where a real-life female kickboxer champion Kathy Long kicks the ruling cyborgs' asses. I believe this is the highly recommendation of martial arts movie.
Dean McKenna
Super Reviewer
A fast paced somewhat vague science fantasy movie about archetypical characters. It opens with the desolation of Earth and the harshness of what's left over. The cyborgs command legions of human slave-soldiers led by the head cyborg called Job. The cyborgs are few in number but they appear to be unkillable to the human rabble. One woman decides to become a warrior and follows the cyborg killer Gabriel who is himself a cyborg but has an internal power source and doesn't require killing humans for their blood. He trains the girl after saving her life and together they slaughter the remaining cyborgs in a series of fights but her young brother is taken by the Master Builder who takes him to Cyborg City. The two hunters continue on with the enigmatic quote describing what would have happened if there had been a sequel "The search for my brother would eventually lead us beyond time and space, far beyond Cyborg City was Genesis, and finally the edge of the universe. But before that there would be many battles and many glorious adventures." Obviously the story is short and not nearly as detailed as it could have been. It would have been interesting to hear explanations for why human blood is the cyborg's power source, why they wanted to kill their human creator, who the Master Builder was, and what caused the devastation of Earth. The movie is, however, entertaining and a good example of how simple archetypes can be applied to make a quick interesting time killer of almost 90 minutes.
Discussion Forum
Discuss Knights on our Movie forum!
News & Features