Knucklehead
(2010)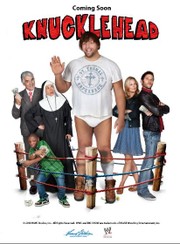 Knucklehead Trailers & Photos
Movie Info
A desperate fight promoter convinces a hulking church handyman to try his hand at wrestling in this sports comedy starring famed WWE wrestler Paul "The Big Show" Wight Jr. As the dimwitted grappler rises up through the ranks on a mission to fight for orphans everywhere, the conniving promoter uses the winnings to settle a debt with his corrupt nemesis.
more
Cast
News & Interviews for Knucklehead
Critic Reviews for Knucklehead
Audience Reviews for Knucklehead
½
Cast: Mark Feuerstein, Melora Hardin, Paul Wight, Dennis Farina, Rebecca Creskoff, Bobb'e J. Thompson, Will Patton, Saul Rubinek, Wendie Malick, Kurt Doss, Raziel Jordan, Lurie Poston

Director: Michael W. Watkins

Summary: Drowning in gambling debts to his bookie, Memphis (Dennis Farina), former mixed martial arts champ Eddie (Mark Feuerstein) starts training gentle giant Walter (The Big Show) for a high-stakes fighting competition with a $100,000 grand prize that would solve all of their problems.

My Thoughts: "Another wrestler film that failed. Honestly, it wasn't like I didn't know It wasn't going to be that when I started it. The concept was as ridiculous as most of the acting was. There was bits that were laughable. But what you end up with is a somewhat funny predictable film with a semi watchable cast. Not much else to say about this train wreck."
♥˩ƳИИ ƜѲѲƉƧ♥
Super Reviewer
½
A Knock Out Comedy

The movie and the story is kinda likable but it's really cheezy, predictable and not funny. I knew exactly what to expect from this movie and got just that.

KNUCKLEHEAD follows con artist Eddie Sullivan (Mark Feuerstein), who, after incurring a large debt with a local bookie (Dennis Farina), creates a get-rich-quick scheme by enlisting a sweet gentle giant named Walter (Paul The Big Show Wight) as his unwitting accomplice. Walter's orphanage - the only home hes ever known - also needs funds desperately. Upon overhearing Walters predicament, Eddie convinces the no-nonsense head nun, Sister Francesca (Wendie Malick), that Walter can win the money as a fighter and pay off the church's debts. Eddies plan: travel from town to town with Walter and enter small, unsanctioned fighting competitions for prize money. Sister Francesca dispatches Mary (Melora Hardin) as a chaperone for both Walter and the money and gives Eddie a week - and a prayer - to make it happen. During their journey across the south to the annual Pro-Am MMA tournament in New Orleans, Walter discovers what life is like outside the orphanage, while Eddie becomes morally conflicted over whether to take all the loot for himself or keep his promise to Walter, the one person he can actually call a friend.
Discussion Forum
Discuss Knucklehead on our Movie forum!
News & Features