The Krays
(1990)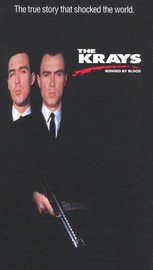 The Krays Trailers & Photos
Movie Info
Peter Medak directed this fact-based drama, chronicling the lives of the infamous Kray Brothers, notorious celebrities in 60s London. The Krays were twin gangsters who ruled London's stylish East End club scene, staking out their territory by committing the most violent crimes imaginable, preferring to perform the most torturous acts themselves. The film stars Gary Kemp and Martin Kemp, founding members of the pop group Spandau Ballet, as Ronald and Reginald Kray. The film opens as their mother Violet Kray (Billie Whitelaw) recalls a dream in which she is a swan from which two beautiful babies have hatched. She can't tell if the swans are angels or demons, but the film soon answers that question for her. Brought up in London's East End in the 1930s, Ronald and Reginald Kray are raised in the resentful world of Violet, who is hateful of her lot in life and bitter at the control men have in running the world ("Housework is a lethal business," she says). The twins react to each other almost telepathically and they take out their anger by clogging the nose of their sleeping father (Alfred Lynch), pushing around fellow schoolboys, and even beating each other to pulp at a boxing match. When her mother chastises them for their fight in a fairground boxing ring ("You fight them up, but you don't fight each other"), the twins veer into the London underworld. In their self-contained world of Us-Against-Them, the Krays rapidly rise to the height of power, first taking over the territory of a petty mobster by violent means and then putting together an underworld empire of posh clubs, cars, and fancy suits. But at the height of their fame, the twins begin to break from each other. Reginald falls in love with Frances (Kate Hardie), while Ronald gets involved in a homosexual relationship with one of his underlings. Ronald, in a jealous rage over Frances stealing his brother away from him, becomes even more brutal in his crimes and while the brothers' backs are turned, a group of older mobsters challenge the Krays' authority, invoking a horrible bloodbath that effects not only the two brothers but Frances and Violet as well. ~ Paul Brenner, Rovi
more
Watch it now
Cast
News & Interviews for The Krays
Critic Reviews for The Krays
Audience Reviews for The Krays
½
Based on the true story of identical twin brothers Ronald and Reginald Kray, the drama of the most notorious British crime lords focuses on character to include homosexuality, a domineering mother, and jealousy leading to hyperviolent bloodletting, rather than the glamorization of the gangster lifestyle.

The Brits love their gangster movies, especially when they're about Brits, and The Krays has enough to stand alongside some of the best gangster films to date. Considering the stars of the film, Martin and Gary Kemp, are from the 80's group Spandau Ballet, this movie is anything but soft.

El Hombre Invisible
Super Reviewer


This fact-based movie follows the life of the twin crime-lords in London's 60's underworld

A great British ganster film that depicts the life of London's most famous gamster brother so well. Noth actors researching their roles as Martin Kemp, visited his counter-part in prison. They gives the definition of method acting at it's best. Brilliant!

The Krays is directed well, at times with a hand-held camera and Montage editing at times. Of Course it's not going to be as great as Scorsese's Ganster classic Goodfellas(1990), made at that time-put for sure it will be a true Brit classic for years to come.

This film is a depiction of power, greed and money and how it corrupts. "When people are afraid of you, you can do anything" says Ronnie Kray to his brother Reggie. The greediness and other forms of corruption - like revenge - become so strong that they finally destroy everything the brothers have reached. Clearly throughout the film we begin to see Ronnie becoming the more diminent twin and we see his homersexual tendencies. Played brilliantly by Gary Kemp, who really pocessed the character well; perhaps better than Martin for me.

To define brilliant acting, you need the actors to become the protagnists on screen, and that is what we see with real-life brothers; Gary and Martin Kemp. The fact that they are brothers in real life, makes them more believable on screen. Martin and Gary Kemp here, and perhaps with some shock, were perfectly cast as the boys in their adult life. Gary Kemp as Ronnie Kray carried off, with a certain ease, the slowly more violent character, while Martin Kemp built up a more subtle, but equally as impressive performance as Reggie. Bille Whitelaw was perfect as the mother of the twins - Violet Kray, and her lines (such as "Mummy loves you") always seemed in place. Her gentle aging throughout the film was also carried off in time with the character. A very honorable mention goes to Susan Fleetwood, who played Aunt Rose admirably.

Michael Kamen and Chris Rea came up with music with commented on the action, and brought a genuine sense of unease to the picture. The actress playing Francis, Reggie's wife, perfectly played her character well- and convincing at that.

Perhpaps the only flaw with this film is that some of the character's actions aren't explained fully enough, and there is no real explanation as to HOW that got to power. For me, that didn't matter as the two hours flew by and I din't really notice. Most of the scenes in the movie, really happened and some really made me squirm at times. Overall the film perfectly shows the life and times of the brothers. Also gave me an insight into life in the East End of Londonin the 1960's.

*Recomended Watch*
Discussion Forum
Discuss The Krays on our Movie forum!
News & Features