Kundo: Age of the Rampant
(2014)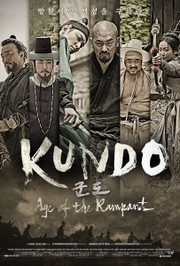 Kundo: Age of the Rampant Trailers & Photos
Movie Info
1859. The last days of the Joseon Dynasty, where the wages of greed bring poverty and death. A pack of bandits - calling themselves KUNDO - rise against the tyrants, stealing from the rich and giving to the poor. In an era where status is decided by birth, this band of thieves risks their lives for honor, in the name of the poor and oppressed. But for one man, a debt of bloody revenge is owed to the aristocrat that robbed him of his family and his name. (c) Well Go USA
more
Cast
News & Interviews for Kundo: Age of the Rampant
Critic Reviews for Kundo: Age of the Rampant
Audience Reviews for Kundo: Age of the Rampant
I have to admit that I am not well versed in Asian action films, nor Korean history but I love this film. YOON Jong-bin's "Kundo"is the story of a bandit clan that take on the tyranny inflicted on the peasant population during the Joseon Dynasty. The film is a Korean period piece, set in 1859, and brings together a modern vision to classic Asian action-fantasy with tradition dramatic passion.

"Kundo" tells a very powerful saga between the impoverished people suffering at the hands of the ruling nobility. It is a tale that rings, not only in historical record, but in modern time around the world. Similar to the legend of Robin Hood, "Kundo" creates a wonderful narrative of one group of individuals standing up to the oppression, taking what they can from the rich, and handing it out to the poor. Something that is universally recognizably as true human heroism. Yoon brings the story to live in epic style, filled with both visual and emotional power that captivates.

The special effects in "Kundo" are restrained and by no means rise as the star of this film. The story, with all its raw intensity, personable emotion, and hypnotizing sound effects are of equal status in this one. The choreographed fighting style is every bit as entertaining as Hong Kong's action films that match this type of film. However the character that develops in "Kundo" balances that fantastical ability of Asian martial arts and war with true passionate story telling that hits at the heart. It is relatable on so many levels. At times the film reminds me of the American westerns of the late 60's and early 70's that tried to give an honest voice to the First Peoples plight.

Over all I have to say the "Kundo" is an affective film-creating a strong atmosphere than pulls you into the story completely. Yoon is brilliant in his ability to make a historical picture relevant to modern audiences while honoring the past. Elements of Western bravado show at certain moments, without spoiling the film I can only say that the film is truly entertaining, giving moments of Kevin Reynolds' "Prince Of Thieves" dramatically-Hong Kong styled fighting and action reminiscent of Tsui Hark's "Once Upon A Time In China". Ther is also a bit of wild west attitude in "Kundo" that reminds me of Christopher Cain's "Young Guns". And yet Yoon manages to keep a unique signature style that is what must be totally Korean, all the elements that make "Kundo" such a stellar film are balanced perfectly with out being overstated. It is a true cinematic gem.
Discussion Forum
Discuss Kundo: Age of the Rampant on our Movie forum!
News & Features